By Cheryl Sullenger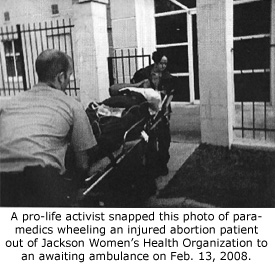 Jackson, MS – The Jackson Women's Health Organization (JWHO), the last abortion clinic in the state of Mississippi, filed a suit in Federal Court in an effort to block the July 1 implementation of a new law that would require all abortionists to have privileges at a local hospital. Operation Rescue has learned that the clinic's court pleadings omit key information about their primary abortionist's botched abortion history in a deceptive gambit to conceal the truth about his atrocious safety record.
Operation Rescue has obtained court documents files on behalf of JWHO by the radical pro-abortion legal group, the Center for Reproductive Rights, that show dubious arguments and suspicious claims as the basis for the abortion clinic's court challenge, including an attempt to hide the identity of their primary abortionist to keep the court from discovering his involvement in the hospitalization of three abortion patients and other abuses that led to the state ordered closure of the Birmingham abortion clinic where he worked.
[All court documents filed in this case as of this writing are available at AbortionDocs.org.]

JWHO, owned by the infamous "abortion queen" Diane Derzis, is seeking a temporary restraining order to keep the clinic open, but in court documents filed June 28, the Mississippi State Department of Health states that it plans to conduct a compliance inspection on Monday, July 2. JWHO has said that it will be impossible for them to come into compliance by that date. If it cannot comply, the abortion clinic will eventually be forced to close.
Covering Up for "Dr. John Doe"



JWHO states in court records that it employs three abortion providers. One abortionist apparently does have local hospital privileges, but only supplies abortions at JWHO on an infrequent basis.
Documents refer to "Dr. John Doe" as being "the sole physician providing abortion care on a regular basis" at JWHO until abortionist Willie Parker was hired on June 18, 2012. Parker's declaration states that he flies to Jackson "once a month" to conduct abortions. Parker's name is featured as a plaintiff on the law suit. "Dr. Doe" is not a named plaintiff – an intentional omission meant to conceal "Doe's" troubled past.
"Dr. Doe" is none other than Bruce Elliot Norman, who was employed until recently at New Woman All Women (NWAW), a Birmingham, Alabama, abortion clinic formerly owned by Derzis. Norman was the abortionist on duty on January 21, 2012, when three abortion patients were hospitalized – one in intensive care – for life threatening abortion complications. After pro-life activists filed complaints, the Alabama Department of Health (ADOH) discovered 76 pages of deficiencies and ordered the clinic closed.
An additional complaint against Norman was filed by Operation Rescue with the Medical Board. That complaint is still under investigation.


"There can be no doubt that JWHO is trying to white-wash the dangers of Norman's abortions by putting Parker front and center in their law suit. Parker has had no complications in Jackson yet because he's only been employed by them for eleven days," said Troy Newman, President of Operation Rescue and Pro-Life Nation. "The court is clearly being misled about the safety of abortions by JWHO staff."
In fact, the JWHO claims in court documents that "the Clinic has an impeccable safety record." It further states that since Derzis took over ownership of the clinic in 2010, "the Clinic has had no major incidents, nor has a single patient required admittance to the emergency room after receiving an abortion at the Clinic."
Yet, in Alabama, Derzis was ordered not to have any affiliation with the NWAW abortion clinic because of the appalling and dangerous way her abortion business was conducted. JWHO uses the same business model and the same primary abortionist.
Three hospitalizations in one day
Pro-life activists photographed two of Norman's patients being hand-carried out of the Birmingham abortion clinic to gurneys waiting in a trash-strewn alley after being overdosed on Vasopressin by a clinic worker. Vasopressin is used to treat excessive bleeding. They filed complaints with the ADOH.
The ADOH discovered a third victim of Norman's during a chart review while conducting an investigation into the abortion-related drug overdoses.
That patient reported for an abortion at 16 weeks gestation – the upper limit for abortions at JWCO – with multiple risk factors that increased her chances for serious complications. Norman took an hour to do the Dilation and Extraction (dismemberment) abortion. At one point he stopped and ordered Pitocin, a drug that increases the intensity of uterine contractions, for the patient because he was having difficulty with the procedure. The patient was not monitored while the Pitocin was given, in violation of patient standards of care. The abortion was later completed, but complications handed the patient in the hospital's Intensive Care ward.
Norman's "blatantly false" records
The ADOH deficiency report indicated that notations made on the patient charts were illegible, nonsensical, or just blatantly false. For example, one record showed the patient's procedure time nearly an hour after her documented discharge.
Norman indicated on two charts that the women were "Ambulatory, d/ced [discharged] with no distress", meaning they walked out of the clinic in good condition. However, those patients were the same ones who were transported to a local hospital in January after having suffered a drug overdose administrated by an inadequately trained nurse.
Norman made notes on some records that he performed ultrasounds on abortion patients the same day as their abortions, prior to their surgeries as state law mandates. However, the survey team discovered several ultrasound photos dated days after a patient had an abortion.
The survey team also found that records that had been forwarded to them before the investigation had been altered when they arrived on-site.
A botched abortion and other documented violations at JWHO
In 2008, an ambulance was called to JWHO to transport a critically injured abortion patient to the hospital. A pro-life activist photographed the event. A confidential source tells Operation Rescue that the abortion on duty that day was Bruce Elliot Norman, even though other records show that the clinic covered this incident by claiming another abortionist was actually on duty that day.
On August 28, 2009, the Mississippi Department of Health issued a 29-page deficiency report that included 18 violations discovered by state inspectors. The report stated that JWHO failed to ensure that all employees were trained in emergency resuscitation, failed to enforce their own policies regarding access to medications, and failed to keep the abortion suites clean and sanitary. In fact, inspectors discovered that medical waste, including aborted baby remains, were being improperly stored in cardboard boxes next to the recovery room at a temperature of 68 degrees.
Many of the clinic staff employed at the time of these incidents continue to work at JWCO today, including the clinic administrator.
"Deception is a way of life."
"It is vitally important for the court to know the full truth about the abortionists who are working at the Jackson Women's Health Organization," said Newman who first recommended the hospital privilege requirement to a Mississippi pro-life lobbyist who pressed forward with the bill. "The court should also consider the fact that Derzis and Norman employed deceptive practices to cover up for abortion injuries and to avoid legal consequences. Based on what we have seen, for these people deception is a way of life."
That deception continues by omitting Norman's troubles from the Federal Court in Jackson, Mississippi.
"It appears that Parker was an eleventh-hour hire because the abortion clinic needed someone without Norman's dirty record in order to portray abortions in Mississippi as being safer than they really are," said Newman.
Dubious health endangerment claims
JWCO's suit argues that it must be allowed to say open, even if it cannot comply with the hospital privilege safety law, because its closure would "threaten the health of women seeking abortions."
"JWCO's argument turns the truth on its head. In reality, with abortionists like Bruce Norman manning the abortion rooms, there is documented evidence that the health of women is in dire peril," said Newman. "The abortion clinic and its shady abortionists are the true danger to women. Again, theirs is a smoke-and-mirrors deceptive claim with no basis in fact."
Closure will not be immediate
As JWCO faces a July 1 compliance deadline, the Department of Health's own procedures could delay closure for weeks or months. According to court documents filed on June 28 by Michael Lucius, the state's Deputy Health Officer, the Health Department will have 10 working days from the inspection to file a deficiency report. JWCO will then have 10 calendar days to file a "reasonable" corrective plan. After that, the Health Department will again inspect to determine compliance. If the clinic still is in violation, a notice of intent to revoke its license will be mailed. If the clinic requests it, a hearing will be scheduled. Hearing decisions can be appealed. Mississippi law allows for the status quo of the licensee to be preserved until the final disposition of the matter, which could take several months.
"We had hoped the clinic would close on July 2, but unfortunately, that will not happen," said Newman. "While we regret the delay, we have every confidence that the system will work and that the Jackson Women's Health Organization will eventually close.
"The provision mandating that abortionists hold privileges at local hospitals is a reasonable and necessary safety measure that has already been upheld in court. If JWCO cannot meet this minimum safety requirement, then it is in the best interest of the public for it to close. When abortion clinics close, lives are saved. That's not a bad thing for anyone except the abortionists."
View Jackson Women's Health Organization's profile page at AbortionDocs.org (with links to court documents).