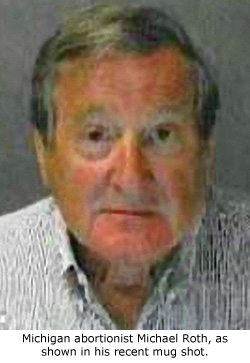 By Cheryl Sullenger
Lansing, Michigan – Today, the Michigan Board of Medicine suspended the license of "Trunk Abortionist" Michael Arthur Roth for one year and fined him $25,000 for the "unlawful possession of a controlled substance."
Lynn Mills of Pro-life Detroit attended the hearing and told Operation Rescue that the suspension was imposed on a unanimous vote. While happy about the suspension and hefty fine, she wished his discipline had included the fact that he had been conducting abortion house calls and was caught transporting the remains of babies he so dangerously aborted in women's homes.
"It's not everything I wanted, but I'll take it," Mills told Operation Rescue after the hearing.
She is convinced Roth will never be allowed to practice medicine legally in Michigan again. That is because Roth faces trial in November for criminal charges related to a September 2015, traffic accident in which he struck and critically injured a special needs child with his car. When police impounded his vehicle as part of their investigation into the accident, they discovered aborted baby remains along with abortion equipment and drugs he had stolen from his employer, Angel A. Ojeda, an abortionist who operates Eastland Women's Clinic in Eastpointe.
Roth used the stolen drugs and abortion equipment for the purpose of committing illegal home abortions – something he was fined $15,000 for in 2004, and ordered not to do again.
Roth told authorities that the aborted baby remains found in his trunk were being transported to Ojeda's abortion business for disposal, as if that somehow excused the illegal transport of human remains or the criminal abortions that produced them.
Unconvinced, police raided Roth's home in October 2015, and impounded evidence that allowed State Attorney General Bill Schuette to criminally charge Roth in June 2016, on ten counts, including:
• 6 counts of identity theft.
• 3 counts larceny.
• 1 count illegal possession of drugs.
A conviction would be grounds for Roth's license to be permanently revoked.
Meanwhile, on January 18, 2017, Ojeda, Roth's former employer, was fined $4,5000 and his medical license was placed on one-year probation for failing to report that he knew Roth was stealing narcotics from his abortion facility.
Roth is no stranger to controversy, or to legal and disciplinary troubles.
In 1988, the New York Times reported that Roth proudly used prenatal diagnoses to conduct sex selection abortions.
"I have no ethical problems with it, absolutely not. I think that abortion should be available on demand," Roth said, adding, "I haven't turned anyone down."
On March 1, 2005, Roth's wife filed for a protection order against her husband. She indicated because she lived in constant fear of being attacked and injured by Roth, she remained locked in the basement of their home pending their divorce.
Roth was again disciplined in 2012, and fined a mere $2,000 fine for negligence, incompetence, and lack of good moral character, after violating public health code in two abortion procedures, and perforating a woman's uterus.
"Weak discipline likely contributed to Roth's delinquency. If the punishment doesn't hurt, it really is no incentive for an abortionist to amend his ways," said Operation Rescue President Troy Newman. "We congratulate Lynn Mills on her efforts to persuade the authorities to discipline Roth and not let his misdeeds be swept under the rug."
Mills, who has following Roth's notorious abortion career since the 1980s, is concerned that since his options are now limited in Michigan, he may attempt to commit illegal abortions in another state.
She believes Roth may be related to Florida abortion Harvey Craig Roth, who graduated from the University of Michigan Medical Center in June 1991. They younger Roth works for abortion businesses in the Ft. Lauderdale area and has his own history malpractice.
"Florida pro-lifers should be on the lookout for him," said Mills.
Related:
OR's Special Report "Underground Abortions: Beware of an Alarming New Trend"