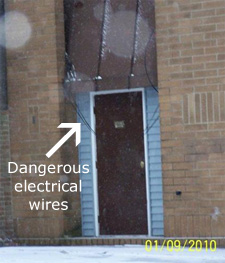 Livonia, MI — Columnist Jill Stanek is reporting that the Livonia, Michigan, abortion clinic owned by late-term abortionist Alberto Hodari is closed. Stanek's source, pro-life activist Lynn Mills photographed the seemingly abandoned building Tuesday morning in a wretched state of disrepair with what appeared to be electrical wires hanging dangerously in front of a door.
Hodari operates group of five Detroit area abortion clinics. He garnered national attention when Students for Life in America videotaped a speech he gave to Wayne State University students where he said that he believes abortionists have a "license to lie."
Since then Hodari's problems have multiplied. Hodari was fined $10,000 for his part in the death of abortion patient Regina Johnson. Last November he put three of the clinics up for sale after Caitlin Bruce filed a lawsuit against him for a forcing an abortion on her after she withdrew her consent. One of those locations was the Livonia location. Another lawsuit was filed against him last month for giving a needless abortion after he failed to diagnose an ectopic pregnancy. The Health Department has launched an investigation into his troubled abortion business. To add to his difficulties, Hodari filed for divorce from his wife of 29 years.
According to Stanek, the Livonia clinic has been open and closed a number of times for lack of business over the past five years.
Operation Rescue investigators called the clinic Tuesday, where a woman answering the phones said that the building was being remodeled and was set to reopen in April, but there was no sign that work was being done. Stanek made her own call to confirm the clinic's closure and got a different story from the receptionist.
"They used to say the place was closed for remodeling, but that no longer passes the smell test, perhaps literally," she said. "Receptionist Kimberly told me employees have been dispersed to other mills but strangely, as usually happens, women have started calling for appointments – when there were 'zero patients' when the doors were open."
"We'll be surprised if either story is actually true," said Operation Rescue President Troy Newman. "Obviously the receptionist hasn't got her stories straight yet. Abortionists hate to admit it when an abortion clinic closes. It is more likely that this closure is a permanent one."
Meanwhile, Mills has filed a complaint with the fire chief for the dangerously drooping electrical wires. The abortion clinic remains on the market with an asking price of $199,900.
"I'm just guessing that this price is negotiable," said Newman.