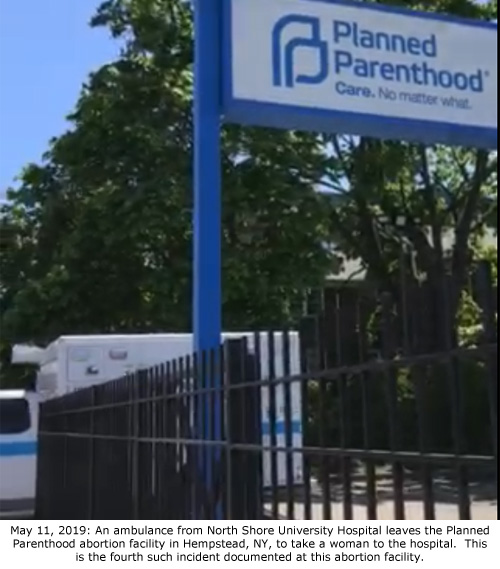 By Cheryl Sullenger
Hempstead, NY – A North Shore University Hospital ambulance was called to the Planned Parenthood abortion facility in Hempstead, New York, for a woman who required emergency transport to the hospital. The incident occurred on Saturday, May 11, 2019, between 11:00 a.m. and noon.
A pro-life activist captured images of the ambulance as it left the Planned Parenthood parking lot without running lights or sirens.
Efforts to discover additional details about this incident were thwarted by the county policy that requires subpoenas to obtain what should be public information about emergency services provided through the 911 exchange.
Operation Rescue has documented three other medical emergencies at this Planned Parenthood facility on October 8, 2011, December 21, 2013, and in August 2014. The incidents reported to us come from pro-life activists and is likely a small fraction of the number of serious abortion complications that take place at this Planned Parenthood.
"We know that women are suffering serious complications at the Hempstead Planned Parenthood due to the reported ambulances spotted there and medical malpractice suits we have on file against this facility," said Troy Newman, President of Operation Rescue. "Abortion isn't safe. It hurts women and sometimes kills them. That's a documented fact."
Documentation can to support Newman's claim can be found at Operation Rescue's archive of abortion-related medical emergencies and patient deaths at Abortion911.com.
Another example of the lapse in patient care standards at the Hempstead Planned Parenthood is a medical malpractice suit filed in 2017, against the facility and one of its abortionists, Bronwyn Fitz, who was involved a negligent D&C abortion on a woman who suffered an ectopic pregnancy.  Her suit alleged that no lab work, diagnostics, or ultrasound exam were performed to ascertain the location of her pregnancy, and that she had no follow-up appointment. 
She also alleged that there was no pathology examination of what was removed from her uterus to ensure the procedure was complete.  Had a gross examination taken place, she may have been able to get proper treatment for her ectopic pregnancy before the delay in care caused her suffering and pain.  Based on the lawsuit's filings, Planned Parenthood appears to have settled the case out of court.
For more information about the Planned Parenthood abortion facility in Hempstead, NY, please visit AbortionDocs.org.