By Cheryl Sullenger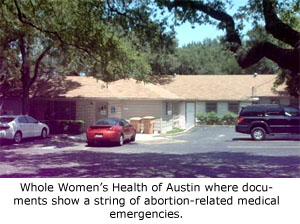 Austin, TX – After the passage in Texas last summer of an historic pro-life law known as HB2, hardly a week as gone by without articles penned by abortion supporters lamenting the new regulations as nothing more than a ploy to shut down abortion clinics.
Amy Hagstrom-Miller, President of the Whole Women's Health abortion clinic chain, is perhaps one of the loudest voices condemning the new law that has already closed 20 Texas abortion clinics — including two of hers. Once the rest of the provisions take effect this September, it is likely that only six abortion clinics will remain in the Lone Star State.
Causing particular angst has been the requirement that abortionists maintain hospital privileges within 30 miles of their clinics.
"Our elected officials lied to all of us, HB2 has nothing to do with improving women's health and safety; but rather it is a proven and successful strategy to end safe abortion care for women in Texas," opined Hagstrom-Miller just last month.
However, Operation Rescue has received three 911 records from just one of Hagstrom-Miller's abortion clinics, Whole Women's Health of Austin, over a 30-day period in 2012 that shows the clinic has a poor track record when it comes to women's safety.
"This documentation loudly refutes Ms. Hagstrom-Miller's fantasy that the hospital privilege requirement and other safety regulations in the Texas law have nothing to do with patient safety. In fact, if patient safety was more of a concern to abortion clinics, perhaps we wouldn't see the long line of women being transported to the hospital, and in some cases, the morgue," said Troy Newman, President of Operation Rescue.
The following incidents were documented through 911 Computer Aided Dispatch Transcripts obtained by Operation Rescue:
• March 17, 2012: A 20-year old female patient was transported to Saint David's Hospital suffering from an allergic reaction. This incident was of moderate severity, but required emergency hospital intervention.
• April 2, 2012: A 34-year old female was rushed to North Austin Hospital with a priority designation that indicated her condition was life-threatening. In fact, paramedics responding to the call upgraded the patient's priority upon assessment of her condition. The WWH caller told dispatchers that the woman was breathing and conscious, but not alert. She was suffering abdominal pain and vomiting while at the clinic. This was the lost serious of the three incidents.
• April 18, 2012: A sick and vomiting 22-year old female patient was transported to St. David's Hospital. Records indicate that she suffered "no priority symptoms," nevertheless, she required emergency hospital treatment that could not be provided at WWH.
This 30-day snapshot of emergencies at just one Whole Women's Health abortion clinic shows that the these facilities are not equipped to handle even the least serious of complications that can be expected to occur at abortion clinics, much less the life-threatening ones.
When emergencies occur, it is imperative that there is continuity of patient care so that emergency treatment is not delayed, especially in life-threatening situations, such as was inflicted upon the 34-year old patient on April 2, 2012. Even a short delay while hospital physicians struggle to diagnose a patient's condition, as we saw in the case of Tonya Reaves, who died at a Chicago, Illinois Planned Parenthood clinic in 2013 can mean the difference between life and death. The hospital privilege requirement adds a layer of protection for women who suffer abortion complications from suffering a delay in care.
Despite Ms. Hagstrom-Miller's hysteria, the Texas law — particularly the local hospital privilege requirement — is all about patient safety. Given the frequency with which Whole Women's Health sends patients to the hospital emergency rooms for medical help the clinics cannot provide, these laws are critically needed to ensure that women get the care they need.
If the law results in the closure of abortion clinics that cannot guarantee patient safety or continuity of care in the event of a medical emergency, then it is in the best interests of women for those abortion clinics to close. Hagstrom-Miller's attitude only reveals that the health and safety of women take a back seat to her financial profit margin, which is currently enhanced by cutting corners on women's lives.
View March 17, 2012 CAD transcript
View April 2, 2012 CAD transcript
View April 18, 2012 CAD transcript