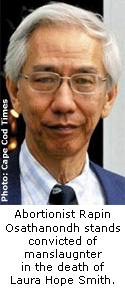 Barnstable, MA – Abortionist Rapin Osathanondh, 67, was sentenced to six months in jail today after pleading guilty yesterday to one count of manslaughter in the 2007 abortion-related death of 22-year old Laura Hope Smith.
Osathanondh will serve three months in a county jail after which he will likely be paroled. He must then serve nine months under home confinement with an electronic monitoring device, and three years of probation. In addition, Osathanondh is barred from practicing medicine and teaching, according to a plea agreement that was reached after a day of in-court negotiations.
Also settled was the civil suit filed by Smith's mother, Eileen Smith. Osathanondh agreed to pay the family a substantial sum of money as a punitive measure.
"Today, justice was done," said Operation Rescue President Troy Newman, who helped advise Eileen Smith after her daughter's death and encouraged her to file complaints with the medical board and prosecutors. "Our condolences and prayers continue to be with the Smith family, who showed such an amazing strength of faith and courage throughout this ordeal."
"This conviction is an object lesson to prosecutors across the nation that abortionists can and should be held criminally accountable to the law for the sake of justice and public safety. There are abortionists out there right now who are endangering the lives of women who should be joining Osathanondh in jail. We hope today's sentencing will encourage prosecutors to file criminal charges against abortionists who are breaking the law. Leaving these kinds of cases to the medical boards and civil courts is simply not good enough."
Osathanondh admitted in court to behaving in a wanton and reckless manner that endangered Smith's life. He failed to properly monitor Smith while under anesthesia and did not call for emergency assistance in a timely manner when she suffered complications. He was also found to have lied to cover up his negligence by claiming he administered emergency care that was never done.
"Osathanondh lawyers need to stop saying that he gave Laura 'good care' because he has now admitted in court that he did not, and she died as a result. It doesn't get any worse than that," said Newman.
Earlier, Osathanondh surrendered his medical license and closed his two abortion offices. A sign from his Hyannis office where Laura died now hangs as a memento at Operation Rescue's national headquarters in Wichita, Kansas.
Watch Osathanondh do the "perp walk" in the video below. -H.T. to C.N.