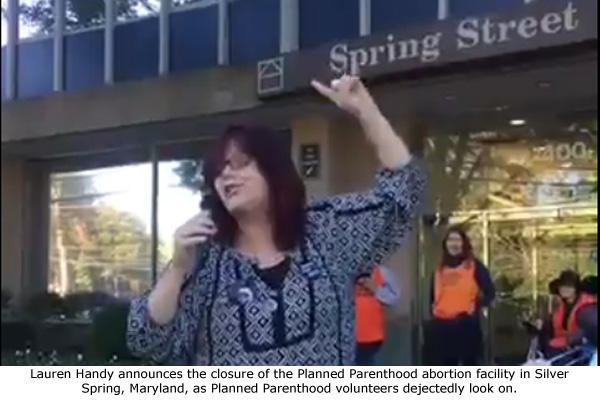 By Cheryl Sullenger
Silver Spring, MD — When Lauren Handy, Director of Mercy Missions, and a friend started a campaign over the summer called "Abortion is Bad Business," she set the ambitious goal of shutting down a busy Planned Parenthood abortion facility in Silver Spring, Maryland, within six months.
The campaign put pressure on Peel Properties, which owns the building where Planned Parenthood is located. Interestingly, Denise Peel, owner of Peel Properties, is Catholic. Handy appealed to her as a Catholic and begged her to uphold her Christian faith.
"Abortion is bad business. We leave when Planned Parenthood leaves," Handy told the real estate company.
Handy's appeal was successful and now Peel Properties has terminated Planned Parenthood's long-term lease and ordered Planned Parenthood to vacate the building – and Planned Parenthood has agreed to go!
"We are so excited that Planned Parenthood is closing! Happy Birthday, Planned Parenthood!" Handy told a large crowd of pro-life supporters gathered outside the abortion facility on Saturday to protest Planned Parenthood's 100th Anniversary.
"We couldn't be prouder of Lauren Handy and the work of Mercy Missions," said Operation Rescue President Troy Newman. "This just proves that tactics like this, which Operation Rescue has employed for years, are successful at shutting down abortion mills and saving lives."
But Handy finds this good news and bad. She is ecstatic that her campaign worked so fabulously, but is concerned that Planned Parenthood has yet to shut down.
Right now, Planned Parenthood is on a month-to-month lease, presumably until they can wind down their business and move out. Since this facility commits an estimated 100 abortions per month, each month this abortion business operates means 100 more dead babies.
Women are also at risk. Last February, an ambulance was called to the Silver Spring Planned Parenthood for a patient who was barely able to walk. No gurney was used to aid the woman, who was in obvious pain. She walked out to the ambulance under the assistance of emergency responders and was partially lifted into the side door of the ambulance.
Handy is asking for help from local pro-life activists to maintain their vigils outside Planned Parenthood until it closes for good.
She is also asking for pro-life supporters to call Peel Properties at (301) 280-4400 and ask them to get Planned Parenthood out now.