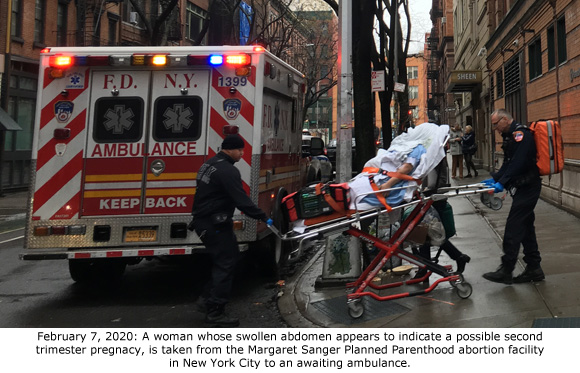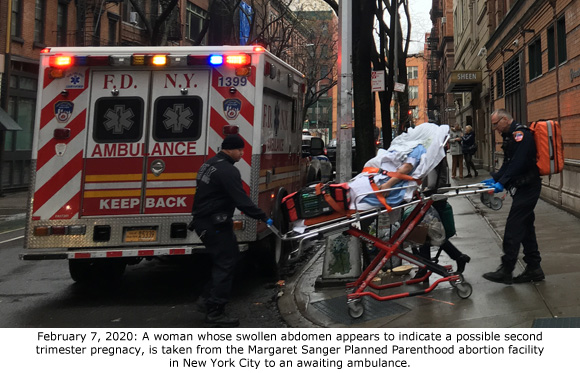 By Cheryl Sullenger
New York, NY – A woman on an ambulance gurney who appeared to have been visibly pregnant, was wheeled out of the Margaret Sanger Planned Parenthood abortion facility in Manhattan, New York, to an awaiting New York Fire Department ambulance. The incident happened on February 7, 2020, at approximately 10:10 a.m.
The woman, whose head was wrapped with a sheet, was strapped to the gurney in the semi-seated position. A gauze secured with tape could been seen on the inside of her left arm that appeared to attached to an IV bag above her shoulder.
An orange gurney strap accentuated her swollen abdomen that seemed to indicate a possible second trimester pregnancy.
The busy Margaret Sanger Planned Parenthood, which conducts abortions at least through 24 weeks of pregnancy, is an abortion training site affiliated with the Ryan Residency Training Program in Abortion and Contraception, headquartered out of the University of California San Francisco.
This is the 34th such medical emergency at this facility documented by Operation Rescue.
"The Margaret Sanger Planned Parenthood is an unsafe abortion facility that has hospitalized at least 34 women – thirteen just last year. We consider it to be one of the most dangerous abortion facilities in America," said Troy Newman, President of Operation Rescue. "This facility targets poor urban women of color for abortions and enjoys political protection from pro-abortion city and state officials. It's time for the people of New York to raise their voices in opposition to the racial targeting, shoddy patient care practices, and brutal destruction of life that takes place at this Planned Parenthood facility, and demand that it be closed for good."
[Watch for more news about this Planned Parenthood abortion facility later this week!]