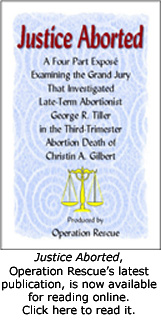 For your convenience, Operation Rescue has made many of our publications available for reading online in PDF format.
Included is our newest booklet, "Justice Aborted: A Four Part Exposé Examining the Grand Jury That Investigated Late-Term Abortionist George R. Tiller." This booklet contains information given to Operation Rescue by a confidential source inside the grand jury process. It reveals that Tiller was not exonerated in the death of Christin Gilbert, but evaded four indictments by only ONE VOTE. Bombshell revelations about the misuse of RU 486, subpoena evasion, and Fifth Amendment stonewalling make this booklet must reading for all concerned about justice and the sanctity of life.
Other titles now available online are some of our most requested articles and booklets, including:
"Abortion Collaborators"
"The Tiller Report II"
"The Use of Graphic Photos of Aborted Children in the Public Forum"
"Why Supporting a CPC is Not Enough"
Operation Rescue was a leader in publishing information exposing and opposing live human embryonic experimentation, including embryonic stem cell research and cloning. We have republished two groundbreaking works that we produced for this growing area of concern.
Also included as a bonus for the first time is a chapter from Troy Newman's book, "Their Blood Cries Out!"
Simply click here to access these publications and more, or click the "Resources" tab at the top of the page and follow the links.