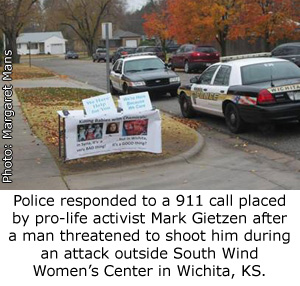 Wichita, Kansas – An angry man jumped out of his vehicle and threatened to shoot pro-life activist Mark Gietzen, who had offered to help him as he left a woman for an abortion at the South Wind Women's Center abortion clinic, located inside a building where George Tiller once operated in Wichita, Kansas.
Gietzen, Director of the Kansas Coalition for Life, was setting up a pro-life display early on Thursday, November 21, when the man drove into the abortion clinic parking lot and dropped off a woman. As he left, Gietzen offered him pro-life literature and urged the man to go back and bring the mother of his baby out of the clinic.
As the man lunged at Gietzen, a clinic security guard, who happened to be nearby, intervened. According to Gietzen, the security guard "attacked [the man] from behind, locking both of his arms around the young man's arms and torso, and lifted him off the ground in a full-body hug."
Gietzen called the police but the man had already fled by the time they arrived. As the police were taking Gietzen's statement, the man returned and was detained by police. It is unknown at this time if the man was actually charged. Wichita Police Officer G. R. Morris issued Gietzen a case number: 13C77676.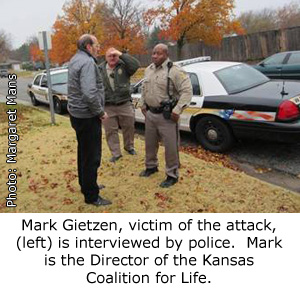 In the confusion of the attack, Gietzen was unsure if the man really had a gun, but was glad he never got the chance to find out.
"This incident shows the hazards that pro-life activists face every day at abortion clinics and dramatically illustrates why this abortion clinic has no business operating in a residential neighborhood," said Cheryl Sullenger, Senior Policy Advisor for Operation Rescue. "We urge the city council to protect the citizens of Wichita, and rezone the area so that the dangers associated with this abortion clinic are removed from a residential area."
Pro-life groups, including Geitzen's KCFL, Operation Rescue and others, urged the Wichita City Council earlier this year to rezone the abortion clinic property in order to protect those living in the residential neighborhood. The council refused to act.
"Abortion clinics are undesirable businesses for a number of reasons. I have personally seen drug deals in abortion clinic parking lots, incidents of domestic violence, abandoned children left in cars while mom aborts their sibling, and other dangerous acts," said Sullenger. "The fact that someone could very well have killed Mr. Gietzen yesterday at that abortion clinic is a frightening reminder of the dangers an abortion clinic brings to a community. It is irresponsible for this abortion clinic to be allowed to continue in a residential neighborhood, placing families at risk of stray violence perpetrated by abortion supporters and customers."
Operation Rescue plans to continue to pressure the City Council to rezone the abortion facility property.
In addition, Operation Rescue is pursuing disciplinary action with the Federal Election Commission against South Wind owner Julie Burkhart, who Operation Rescue discovered was improperly using funds from a political action committee to run her for-profit abortion clinic. Burkhart later described the illegal expenditure as a "loan," which itself was illegal according to FEC regulations. The case is open and progressing, according to a letter from the FEC received by Sullenger earlier this week.