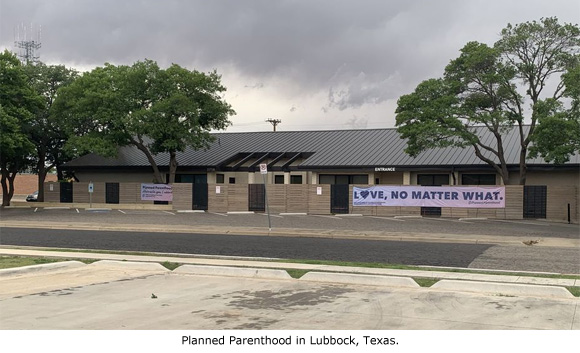 By Cheryl Sullenger
Lubbock, TX – The Planned Parenthood abortion facility in Lubbock, Texas, has been dealt two significant losses recently that have forced it to stop all abortions as of June 1, 2021.
The Lubbock Planned Parenthood had started dispensing abortion drugs in April 2021.
First, on May 1, 2021, the people of Lubbock voted 62.46 percent to 37.54 percent to approve an ordinance making Lubbock a Sanctuary City for the Unborn.  The ordinance, which went into effect on June 1, essentially bans abortions within the Lubbock city limits.
So far, 29 cities in Texas, Nebraska, and Ohio have passed such an ordinance. However, Lubbock is the only community to have had an active abortion facility at the time the ordinance went into effect.
Planned Parenthood of Greater Texas, which operates the Lubbock facility, sued to block the ordinance claiming it was unconstitutional.
But late yesterday, U.S. District Court Judge James W. Hendrix dismissed the suit due to lack of jurisdiction and failure to show standing. [Read the Dismissal Decision and Judgment.]
Texas Attorney General Ken Paxton weighed in on the new ordinance, stating that it does not break any state laws.
"We congratulate the people of Lubbock for their success in making Lubbock abortion-free, at least for now," said Operation Rescue President Troy Newman.  "From my experience with Planned Parenthood, having been sued by them in a San Francisco Federal Court, I expect that they will not stop fighting for the opportunity to kill every innocent child they can, so it is not over yet.  Diligence and determination will continue to be needed into the foreseeable future to protect innocent lives from Planned Parenthood, and the good people of Lubbock have already shown they are up to the task."
The Lubbock Planned Parenthood facility remains open and providing services other than abortion at this time.