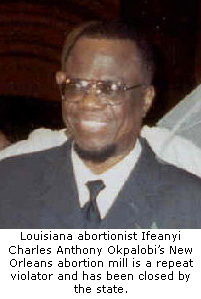 New Orleans, LA – The Louisiana Department of Health and Hospitals (DHH) has revoked the license of the Gentilly Medical Clinic for Women and ordered it to shut down after a new inspection discovered "repeat violations that posed significant health and safety risks to clients."
The order was issued Wednesday, and the clinic was forced to close the following day.
"This is just one more example of how abortion clinics defiantly disregard the law and sacrifice the health and safety of women because they think that laws don't apply to them and that women don't deserve any better treatment," said Operation Rescue President Troy Newman. "We have found this kind of attitude to be rampant inside the abortion cartel, in spite of their phony public relations claims to the contrary."
This is the second time the state has attempted to revoke Gentilly's license after repeated health and safety violations were discovered there. In January, 2010, the clinic was ordered to close, but the clinic's owner abortionist Ifeanyi Charles Anthony Okpalobi (pronounced ok-PAH-luh-bee), a Nigerian national, appealed the ruling and a judge ordered that the clinic could stay open during the long appellate process.
However, DHH Secretary Bruce D. Greenstein indicated in a press statement issued yesterday that the new revocation and closure order was issued under a new law passed last year that gives the DHH Secretary the authority to close abortion clinics when circumstances warrant it. That order was not in effect when the previous revocation order was issued.
This is the second abortion clinic closed under the new law. In September of last year, the DHH closed the Hope Medical Group for Women in Shreveport for violations discovered there.
"This goes to show that pro-life legislation that is regulatory in nature has great impact when it is enforced," said Newman. "The new pro-life laws that are sweeping legislatures will undoubtedly serve to protect women and their pre-born babies from abortionists like Okpalobi, and that is a step in the right direction toward total abolition and protection for the pre-born."
Operation Rescue has Louisiana officials to also asked close the Delta Clinic of Baton Rouge after a botched abortion revealed numerous abuses, including the alleged illegal non-reporting of abortion complications.