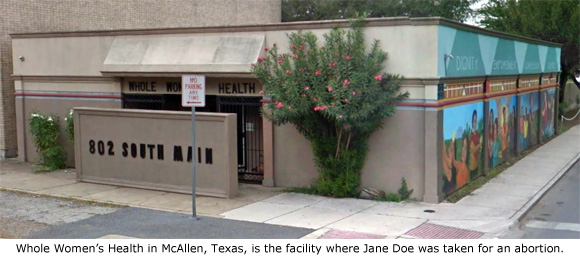 By Cheryl Sullenger
McAllen, Texas – Controversy swirled recently over the case of an unaccompanied 17-year old undocumented teen from an unnamed South American country who had been taken into Federal custody. Of all the thousands of undocumented people detained after crossing illegally into this country, why did the ACLU get involved and push her case into the national headlines? The girl was pregnant and wanted an abortion.
The ACLU aggressively sued the Trump administration on behalf of "Jane Doe" to force the Federal government to assist her in obtaining an abortion. Unfortunately, the ALCU prevailed. Last week, Jane Doe was escorted to the Whole Women's Health facility in McAllen, Texas, where she received an abortion at approximately 16 weeks into her pregnancy.
"We know quite a bit about this McAllen facility. We centered an investigation there in 2010. The results were shocking," said Troy Newman, President of Operation Rescue. "I wouldn't take my dog to such a place."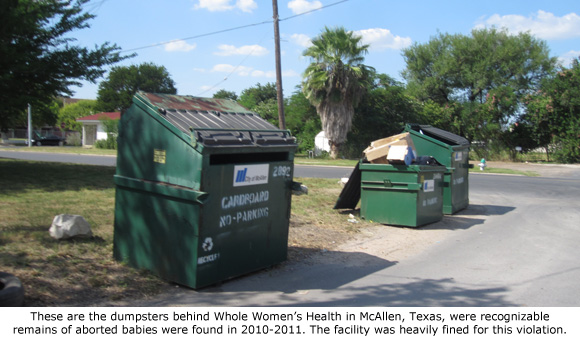 Operation Rescue's investigation uncovered dirty conditions, violations of the 24-hour informed consent law, and illegally dumped remains of aborted babies that overflowed out of an open dumpster in the back of the facility.
As a result of the investigation and ensuing complaints, Whole Women's Health abortion offices in McAllen and Austin and Stericycle were fined a total of $83,000 for the illegal dumping of "recognizable" human remains.
Also, two Whole Women's Health abortionists Alan H. Molson and Robert E. Hanson, were fined thousands of dollars for violations discovered as a result of Operation Rescue complaints.
Molson was found to have assigned a medication assistant to conduct post-abortion follow-up appointments and prescribe medications on prescription slips that were pre-signed by Molson. Hanson was disciplined for inadequate patient medical histories and physical exams prior to abortions.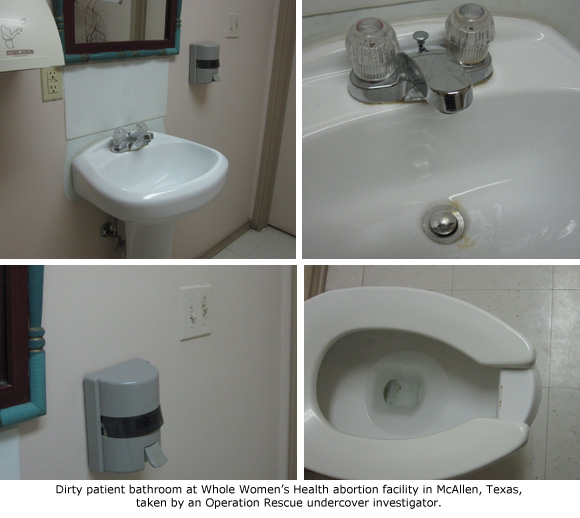 As for the unsanitary conditions found by an Operation Rescue investigator, similar conditions were detailed in a 2015 inspection report, that listed seven pages of violations, including:
• Failure to provide health care in a safe, sanitary environment.
• Remains of aborted babies were stored in plain Ziploc bags in the freezer and were not labeled.
• In the sonograph room, the vinyl cover on the exam table was torn and could not be properly disinfected.
• Medications on the emergency cart were expired.
• Expired medications elsewhere in the facility were still being used on patients.
• One suction tube package was contaminated with brown substance, while another was in torn packaging, compromising its sterility.
• Hazardous cleaning solutions were not secured or stored properly.
• Failed to store sterile surgical instruments in peel pouches in a way that would prevent the pouches from being punctured or torn and therefore contaminated.
• Peel packages were not properly sealed to prevent contamination.
• Failed to ensure that all patient care personnel were certified in CPR and competent to administer it. This was a direct patient safety issue.
A 2016 inspection report noted that in the room where surgical instruments were sterilized, the counter had warped and pulled away from the wall, creating a surface that could not be sanitized and was subject to the collection of bacteria and other infectious materials.
Questions must be asked.
Why are we subjecting women and minor girls to these kinds of shoddy conditions and practices? Why are they being treated as if dismembering their babies is best for them? Why do some believe that the third-world conditions found at American abortion facilities should not only be tolerated, but celebrated and protected? Is this the best we can do for women and babies as a nation?
"What conditions were like at the McAllen Whole Women's Health facility on the day of Jane Doe's abortion are unknown, but a leopard doesn't change its spots," said Newman. "Putting aside all the legal arguments and implications in this case and just looking at this facility's background as described in the disciplinary documents and inspection reports, it is appalling that a court found Jane would be better off killing her baby at this abortion facility – or any other for that matter."
Newman continued, "What's even worse – apart from the tragic loss of the life of Jane Doe's innocent baby – is that many people think that this court-ordered human rights atrocity is all she deserved. That is a despicable attitude that must change."