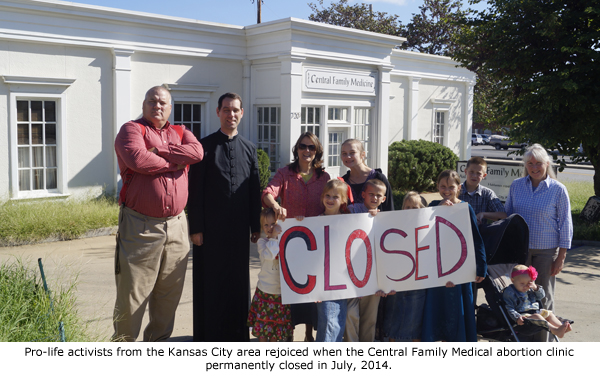 By Cheryl Sullenger
Kansas City, KS — A Kansas City abortion clinic that once fought a legal battle to prevent abortionists from being required to report child sex abuse is no more.
After Central Family Medical (also known as Aid for Women) closed for good on July 26, 2014, it didn't take long for the property to sell. But the ramshackle, outdated abortion building located on the corner of 7th and Central in Kansas City, Kansas, did not fit in with the new owner's plans.
On May 18, a demolition crew arrived on the scene and began to bulldoze the former abortion facility to the ground.


"After all the lives lost and human misery that was inflicted at that abortion business, it seemed appropriate for it to be leveled," said Operation Rescue President Troy Newman.
In 2006, the abortion business made arguments during a Federal Court trial in Aid for Women v. Foulston that abortionists should not be mandatory reporters of suspected child abuse. Judge J. Thomas Marten ruled that the reporting of sexual activity in girls aged 15 and under should be discretionary, and prohibited enforcement of the mandatory aspects of a Kansas child rape reporting law.
Later, the Kansas reporting law was changed slightly, making Marten's ruling moot and changing Central Family Medical's victory into defeat.
In May 2012, Operation Rescue obtained internal documents from Central Family Medical and published an exposé that revealed multiple abuses. Documents clearly showed that Central Family Medical likely never reported child sex abuse. A complaint was also filed with the Kansas Board of Healing Arts, which launched an investigation into shoddy and possibly illegal practices at the abortion facility that ended only after the clinic closed.
Operation Rescue's exposé also revealed substandard treatment of women at Central Family Medical, as illustrated in video taken by local pro-life activists, which showed that women were dangerously and routinely released after abortions before their conditions stabilized. Many women could not walk without support and appeared to still be in a drug-induced daze.
"Many pro-life activists worked, prayed, and offered help to women at Central Family Medical for years seeking the closure of this shoddy and dangerous abortion business. Last year those prayers were answered and last week, the exclamation mark was put on that victory!" said Newman. "It reminds us of Psalm 37 that teaches us not worry about the wicked, but to diligently seek to Lord and in the end, the wicked will be no more. The empty lot where that abortion clinic once stood is a testament to God's faithfulness in keeping His promises and answering prayer."
[Note: Troy Newman and Cheryl Sullenger have authored a new book titled "Abortion Free: Your manual for building an Pro-Life America, one community at a time." It is available now on Amazon.com.]