By Cheryl Sullenger
Akron, OH – With lights flashing and sirens blaring, an ambulance transported a woman from the Akron Women's Medical Group abortion facility in Akron, Ohio, to a local hospital on Saturday, February 7, 2015.
One pro-life activist was on the scene at the time and had the presence of mind to video the incident with his cell phone as the woman was loaded into an ambulance and rushed away from the clinic.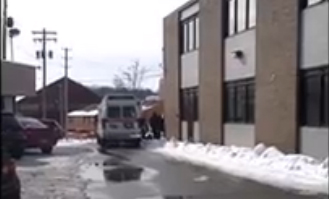 "Once again, if it had not been for this one faithful man, this incident would have been swept under the rug. This shows how important it is to document medical emergencies outside abortion facilities so that the public can know the truth about abortion dangers that are grossly underplayed by the abortion cartel," said Troy Newman, President of Operation Rescue. "Abortion isn't safe for the thousands of women who are hospitalized each year suffering from life-threatening abortion complications, and that is a truth that must be documented and exposed so abortionists can be brought to justice."
Operation Rescue is currently continuing to investigate this incident and plans to file complaints.
"We encourage anyone who was injured or had a loved one injured at Akron Women's Group to contact us immediately," said Newman. "We might be able to help through a number of programs and resources at our disposal."
The Akron Women's Medical Group (AWMG), a member of the National Abortion Federation, is a troubled abortion facility that has a history of health and safety deficiencies, according to documentation received by Operation Rescue. The abortion business leases their building from the notorious late-term abortionist Martin Haskell, who owns the property.
The NAF certified that AWMG was in full compliance with its Clinical Policy Guidelines, however, in 2011 a patient care complaint alleging that the facility was dirty, a patient was mistreated by a staff member and that the clinic had a rodent infestation prompted two inspections of the facility that uncovered the following violations:
• Trash and food debris was discovered in the patient waiting room.
• Carpets in the facility were stained and in need of cleaning.
• A container of used needles had no lid as required for safety.
• Crash cart and ultrasound machine in procedure room were dirty.
• Cabinets with drugs and prescription pads were unlocked and several drug vials were out on the counter.
• Supplies and supply boxes scattered around the procedure room counters and floor.
• Gurneys were covered with heavy black plastic and secured with duct tape under the mattresses.
• Inadequately trained staff.
Allegations that patients were treated rudely and that unsanitary conditions existed at the clinic were substantiated. The report that mice were seen in the facility was deemed unsubstantiated only because the inspector did not see any during her survey.
A follow-up visit to AWMG showed that while some of the deficiencies had been addressed, the facility still failed to maintain sanitary conditions while another inspection in 2012 discovered additional violations.
Abortionists employed by AWMG include Mohammed Rezaee and Raymond E. Robinson. Lucy Ann Nunnally serves as Medical Director, but according to records in Operation Rescue's possession, Nunnally does not appear to be directly involved in direct patient care.
Rezaee also works at Preterm abortion facility in Cleveland and was on duty the day Lakisha Wilson received a fatal abortion on March 21, 2014. Rezaee was not the abortionist of record but was seen following the ambulance to the Case Medical Center hospital. Rezaee has a documented history of botched medication abortions.
Robinson has a list of troubles of his own. In 1993, Robinson was suspended from the practice of medicine for six months after improperly prescribing thousands of doses of drugs to family members.
In 2004, Robinson was charged with a felony possession of forged documents after clinic workers used his unsecured prescription pads to illegally dispense drugs to patients. While his charges were later dropped, the 2011 inspection discovered that the practice of leaving prescription pads unsecured at the clinic persisted.
Just last year, the Indiana Attorney General's office filed an administrative licensing complaint against Robinson for violation of Indiana's record-keeping and advice and consent laws regarding abortion procedures, including failing to properly report abortion on minors as young as 13.
"Given what we know about the Akron Women's Medical Group, it is shocking that this facility is allowed to continue operations," said Newman. "This facility is dangerous to women and should be immediately shut down."