Operation Rescue expresses gratitude to the Thomas More Society for filing a civil suit on behalf of Shanice Denise Osbourne, and insists that criminal charges must still be filed against her murderers.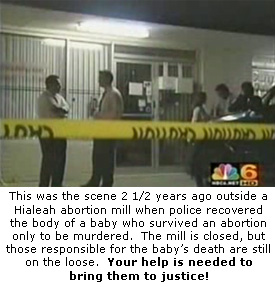 Miami, FL – A law suit was filed last week by the Thomas More Society in the case of a baby that was born alive at a Hialeah abortion clinic, murdered, and whose body was stashed on the clinic roof.
The case was filed on behalf of the baby, Shanice Denise Osbourne, and names 13 defendants, including the unlicensed worker who killed Shanice, Belkis Gonzalez, the doctor who did not respond to calls, Pierre Renelique, and the business entity that owns the four abortion mills run by them.
The suit provides new and shocking details of callous, negligent conduct and cold-blooded murder. [Read the full complaint]
"We are thankful to the Thomas More Society for taking an interest in this case and seeking justice on behalf of Shanice. We pray for their success," said Operation Rescue President Troy Newman.
On July 20, 2006, Shanice's mother, Sycloria Williams, arrived at the Hialeah clinic in the early stages of labor after having been prepared for her late-term abortion the previous day by Renelique. Without a doctor or any other licensed person present, the clinic receptionist administered a drug that induced labor and cervical dilation.
After waiting hours in the clinic's recovery room in labor and without medical attention, Williams finally gave birth to Shanice on the seat of a recliner.
With Shanice moving and breathing on her own, Gonzalez murdered Shanice by cutting the umbilical cord and shoving her into a red bio-hazard bag. She hid Shanice's body on the roof of the abortion clinic.
An informant contacted the police and days later they were able to recover the baby's decomposing body. An autopsy confirmed that Shanice had been born alive.
In the two years since the incident, authorities have neglected to charge Gonzalez in the death of Shanice, saying only that the case is under investigation.
"After over two years, there is nothing left to investigate," said Newman. "We know who murdered Shanice, and we know how it was done down to the last detail. It's been determined that the baby was born alive and the actions taken by Gonzalez caused her death. Now it's time for justice.
"The Miami prosecutor is letting Gonzalez get away with murder, and is sending a dangerous message to the medical world that the lives of living newborns are not deserving of protection. We cannot rest until justice is done."
Those interested are urged to contact the prosecutor and demand that charges be filed against Gonzales and her accomplices in the murder of Shanice Denise Osbourne.
Contact:
Prosecutor David Waksman
(305) 547-0430
[Shanice Denise Osbourne was finally laid to rest last October. Click here to view a video produced at that time that is still of importance in light of the newly filed law suit.]