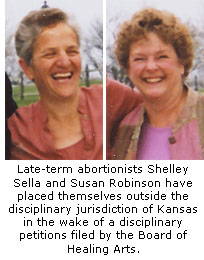 Albuquerque, NM – Two Albuquerque late-term abortionists who worked for George Tiller's Women's Health Care Services in Wichita, Kansas, before it permanently closed last year have dumped their Kansas medical licenses, placing them outside the disciplinary jurisdiction of the Kansas State Board of Healing Arts.
Abortionist Shelley Sella cancelled her Kansas license the same week that the KSBHA notified Operation Rescue that an eleven-count disciplinary petition had been filed against Ann Kristin Neuhaus, who provided improper late-term abortion referrals to Tiller's abortion business. The petition was based on a complaint made by an Operation Rescue staff member.
Susan C. Robinson voluntarily put her Kansas license on "Inactive" status a month after WHCS closed. At the time of the closure, Tiller also faced an eleven-count disciplinary petition filed by the KSBHA for illegal late-term abortions referred to him by Neuhaus. The KSBHA closed the case only because of his death in May, 2009.
"The move to voluntarily terminate their medical licenses in Kansas puts Sella and Robinson outside the disciplinary jurisdiction of the Kansas State Board of Healing Arts," said Operation Rescue President Troy Newman. "That action says a lot about their legitimate concerns that they could also have faced discipline for abortion abuses in which they may have participated while in Kansas."
Both abortionists are now operating in Albuquerque, New Mexico, at Southwestern Women's Options, a late-term abortion mill operated by former back-alley abortionist Curtis Boyd. Boyd boasts of having done thousands of criminal abortions prior to Roe v. Wade and acknowledges that he is aware that he is killing by doing abortions.
Last month, Operation Rescue was notified that the KSBHA had filed a disciplinary petition against Neuhaus for improper late-term abortion referrals to Tiller's clinic. Without the referrals, WHCS would have been barred from doing the more financially lucritive abortions past viability. Abortionists who benefitted from Neuhaus' improper referrals included Tiller, Sella, Robinson, and Nebraska abortionist LeRoy Carhart.
Carhart alone maintains a current Kansas medical license. He remains under investigation in Nebraska after several clinic workers came forward and provided affidavits detailing abortion abuses and illegal activity they witnessed while in Carhart's employment at his run-down mill in Bellevue, Nebraska. His efforts to open a late-term abortion clinic in Kansas after the closure of WHCS were blocked by Operation Rescue.
"The people of New Mexico, where Sella and Robinson have relocated, need to be aware that these two have a history of shady abortion practices. Sella, Robinson, and their new employer, Curtis Boyd, all have flouted the law and placed the lives of women at risk," said Newman. "Sella and Robinson's recent efforts to place themselves outside of the disciplinary jurisdiction of Kansas show they are defiant and are unwilling to amend their ways or submit to justice. Their above-the-law attitude is a dangerous one that could cost women their lives."
Operation Rescue has deployed a Truth Truck to Albuquerque to help expose dangerous late-term abortions there and help women make decisions to save the lives of their babies.