UPDATE: Haskell files motion to stay closure order and stay open while operating illegally! (See below)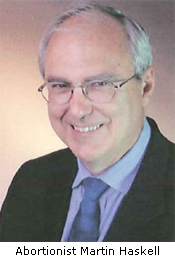 Cincinnati, OH – Late-term abortionist Martin Haskell has filed an appeal asking a court to overturn an Ohio Department of Health order revoking the operating license of his Sharonville abortion clinic.
The order was issued by earlier this month by ODH Director Theodore Wymyslo, giving Haskell until February 4, 2014, to close down his abortion clinic, which is in noncompliance with an Ohio requirement that he maintain hospital privileges or a valid hospital transfer agreement.
Ever defiant, Haskell's attorneys stated, "For the last three years, the facility has safely operated and provided service to women in Cincinnati without a hospital transfer agreement and will continue to do so."
But the ODH is convinced that Haskell will not follow the law and that his operating without a valid hospital transfer agreement would be not only dangerous, but illegal.
"There is a history of problems with this particular ambulatory surgery facility and operator," an ODH spokeswoman told the Cincinnati Enquirer. "The agency no longer has confidence that this ambulatory surgery facility will take necessary steps to operate in accordance with regulations."
Haskell has no hospital privileges of his own and had been operating under a variance that allowed him to stay open as long as he had an approved agreement with local physicians to provide hospital care to Haskell's patients injured during abortions.
Haskell obtained a variance in 2011 on the condition that three abortionists, Roslyn Kade, Walter T. Bowers, II, and David B. Schwartz, maintained unrestricted admitting privileges.
Bowers' incompetence was publicly exposed by Operation Rescue, which discovered that he had been banned from the practice of obstetrics in Kentucky and was placed on five years of probation.
On February 29, 2012, Kade, who is also employed by Haskell to do abortions, lost her unrestricted privileges at Christ Hospital. Her privileges were a critical requirement for the variance.
Shortly thereafter, Haskell temporarily amended his variance to replace Kade and Bowers with two abortionists who have histories checkered with medical malpractice cases. However, Haskell failed to notify the ODH of the change in a timely manner, an omission with which the ODH took issue, noting that the variance had been predicated on the services of specific physicians who were no longer providing hospital services to Haskell's patients.
"The assertion that Haskell has been operating safely is a complete falsehood," said Troy Newman, President of Operation Rescue. "We have documented one botched abortion after another at his clinics and have the proof that he is hurting women."
Operation Rescue filed a complaint with the State Medical Board of Ohio in April, 2012, against Haskell alleging violations of the standards of patient care after documenting a pattern of life-threatening abortion complications that required the emergency hospitalization of at least four abortion patients at his Sharonville and Dayton clinics. That complaint remains open.
"We have documented life-threatening incidents at Haskell's clinics that require emergency hospitalization on a regular basis. Dumping them on a local hospital that has to figure out what happened to them is dangerous since it could create delays in getting the women the medical care they need," said Newman. "Haskell's arrogant attitude that he is exempt from to compliance with the law makes him exceptionally dangerous."
Haskell's attorneys say he will continue to operate during the appeal, but Operation Rescue notes that without a court order — which he does not yet have — the ODH's February 4 closure deadline would remain in effect. A hearing date on the appeal has not yet been set.
"The ODH has spent years to no avail attempting to work with Haskell to get him to comply with Ohio's common-sense safety laws. The court should not allow him to continue operating when he has already expressed his intent to defy those safety rules would only further endanger the public," said Newman. "We will watch this case closely and continue to pray that Haskell's dangerous late-term abortion business will close for good."
[Appeal document courtesy of Right to Life of Greater Cincinnati.]

UPDATE Jan. 29, 2014 2:30 PM: the following is a press release from Right to Life of Greater Cincinnati:
Sharonville Abortion Facility Files Motion for Stay
Seeks to Remain Open While Operating Outside the Law
January 29, 2014 (Cincinnati, OH): On the heels of filing a notice of appeal in the Hamilton County Court of Common Pleas Tuesday, the Lebanon Road Surgery Center (Women's Med Center) has today filed a motion for a stay of execution.
In the order dated January 17, 2014, the Ohio Department of Health denied late term abortionist, Martin Haskell, a license to operate his Women's Med Center abortion facility in Sharonville, Ohio. Under this order, the facility's operations are to cease effective February 4, 2014.
The motion for stay claims that compliance with the order means that the Women's Med Center "will suffer an unusual hardship. A stay will merely maintain the status quo."
The judge assigned to the case will determine whether or not to grant a stay, and if so will maintain the status quo of an abortion business that threatens women's health and safety and is lethal for their unborn babies.
If a stay is granted, the Women's Med Center will remain in operation while the Women's Med Center's appeal is heard and decided–regardless of the Ohio Department of Health's order to revoke and not renew this ambulatory surgical facility's license for failing to have a written transfer agreement with a local hospital as required by law.
Contact: Paula Westwood, Executive Director, Right to Life of Greater Cincinnati, 513/728-7870
Read the Motion filed 01-29-2014