Please join us for an urgent Webcast concerning the Summer of Mercy 2.0 event tonight at 9:00 PM Eastern. Click here to sign up now!
________________
The following is a press release from Rev. Patrick Mahoney, Director of the Washington, D.C.-based Christian Defense Coalition, who is on the leadership team for the Summer of Mercy 2.0 event to be held in Germantown, Maryland on July 30- August 7. Operation Rescue is a co-sponsor of that event.
Of Carhart, Operation Rescue President Troy Newman said, "One thing we have learned from our long experience with LeRoy Carhart is that if he is saying it, it probably isn't the truth." -OR Staff
________________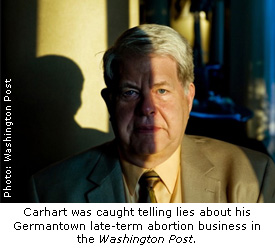 GERMANTOWN, Md., July 28, 2011 /Christian Newswire/ — Recently a Washington Post article stated "All the late-term abortions Carhart has done in Germantown have involved fetuses with anomalies, he said."
A recent patient of Carhart's, who decided not to get an abortion, was never questioned once by Carhart about the health of her baby. She was however, told in detail, how much the abortion would cost.
Kiesha, who just gave birth to a healthy baby girl, was originally planning on getting the late-term abortion because of the pressure the child would bring into her life, not for any fetal anomalies or health issues.
In fact, of the over 25 mothers Dr. Grace Morrison has talked to seeking late-term abortions at Carhart's clinic, only one was there because of a poor prenatal diagnosis.
This information comes as "The Summer of Mercy 2.0" is scheduled to begin on July 30 in Germantown, Maryland.
Go to www.summerofmercy.com for more information.
Area pro-life activists question why the Washington Post did not do more research for this article.
Dr. Grace Morrison, of the Vitae Foundation, states,
I have been protesting at Carhart's on Mondays since December 6. During this time, I have had the opportunity to speak with over twenty-five mothers who were there seeking late-term abortions.
There has only been ONE case of a mother seeking a late-term abortion because of a poor prenatal diagnosis. The other mothers were reportedly there because, even at this advanced stage in their pregnancy, they decided that the baby was an inconvenience.
One mother, Kiesha, who came to Carhart's for a late-term abortion decided to save her baby. She just gave birth to a beautiful, healthy baby girl.
Rev. Patrick J. Mahoney, Director of the Christian Defense Coalition, adds,
The myth that somehow Leroy Carhart is doing abortions on mothers with children who have fetal anomalies has now been exposed as an absolute lie.
Pure and simple, it is now clear that Carhart is killing viable pre-born children for his own financial gain and is in no way helping struggling moms.
However, even if these children were facing some physical or mental challenges, as a society we should treat the disabled with dignity, equality and respect. Killing these innocent ones through the horror of late-term abortions is never the answer.
We would also like to encourage the Washington Post to stop acting as a public relations firm for Leroy Carhart and actually do some research and reporting on this issue.
As the 'Summer of Mercy 2.0' begins on July 30 and goes to August 7, we are calling upon people who believe in human rights and social justice to come to Germantown, Maryland for a time of prayer and public witness on behalf of the most vulnerable in our society.
For more information call:
Rev. Patrick J. Mahoney at 540.538.4741
Dr. Grace Morrison at 240.997.2520