A commentary by Cheryl Sullenger, Senior Policy Advisor, Operation Rescue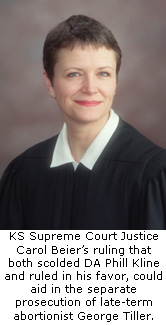 Wichita, KS – The Kansas Supreme Court decision issued last week that allowed Johnson County District Attorney Phill Kline to maintain his copy of abortion records and move forward with his prosecution of Planned Parenthood, could also aid the separate prosecution of late-term abortionist George R. Tiller in Wichita.
Four days of testimony have already been taken in a hearing on Tiller's motion to suppress evidence against him in a criminal case involving 19 counts of committing illegal late-term abortions. The charges Tiller faces were not filed by Kline, but were based on abortion records he lawfully obtained during his tenure as Attorney General. Tiller's defense is attempting to prove that because Kline engaged in what they consider to be "outrageous prosecutorial misconduct," then the evidence obtained by Kline should be suppressed and their client should be allowed to go scot-free. That hearing is currently in hiatus until January 6, 2009, when Kline is expected to complete his testimony.
However, one of the main issues that Tiller's defense team has already brought up in court as an example of "outrageous prosecutorial misconduct" was addressed by the recent Supreme Court decision.
Much was made in the Tiller hearings of the manner in which documents were transferred from the Attorney General's office to the Johnson County District Attorney's office when Kline left one office for the other. The record reveals that the documents related to Kline's abortion investigation were placed in plastic boxes and transported in state and private vehicles, at one time being stored in the home of one of Kline's junior investigators.
While Tiller's attorney's find this to be an outrage, the Kansas Supreme Court did not. The majority opinion, while being completely hostile to Kline, stated:
[Planned Parenthood] and the Attorney General admit, as Judge King found, that there are no binding standards for exactly how to effect an exchange of investigation information between prosecutors…Kline's long lob, enabling himself and his subordinates to play both sides of the net, was, at a minimum, unorthodox. At a maximum, it was cynically calculated not only to facilitate Kline's ability to continue his pursuit of CHPP [Planned Parenthood] and WHCS [Tiller] despite his rejection by the statewide electorate but also to defeat or delay any review of the legal justification of that pursuit by a political nemesis whom the same electorate had selected as Kline's successor. But the long lob was not illegal. And, there is no law preventing prosecutors from allowing private citizens to have a role in the transport and storage of inquisition documents. [Emphasis added]
Furthermore, a request by Planned Parenthood for civil contempt for his handling of the Planned Parenthood and Tiller records against Kline was denied, noting that even Judge Richard Anderson testified before a special master appointed by the Supreme Court that in Kline's handling of the records, he did not find that Kline was in contempt of the orders of the Supreme Court.
The majority opinion was written by Justice Carol Beier, an appointee of Gov. Kathleen Sebelius, a radical abortion supporter with ties to Tiller. There is obviously no love lost between Beier and Kline. But even though Beier's dislike for Kline was more than evident in her recent ruling, she still ruled in his favor, because in the end, it is the rule of law that thankfully governs us, and not personal prejudices of individuals, even if they do sit on the Kansas Supreme Court.
It appears that the main argument made by the Tiller defense team to prove "outrageous prosecutorial misconduct" has been completely shot down by the Kansas Supreme Court.
But given the Tiller defense's penchant for paranoia and a hysterical reading of evil conspiracies into every day actions, we doubt if the common-sense ruling of the Kansas Supreme Court will be of much deterrence in their efforts to strip prosecutors of incriminating evidence against the most notorious late-term abortionist in the nation. However, it does give hope that, in spite of high emotions even among Supreme Court Justices concerning this case, the rule of law will ultimately prevail.