Disciplinary Administrator Hazlett pursues his political vendetta against Phill Kline in order to protect Planned Parenthood from criminal prosecution, even against the recommendations of his own investigators.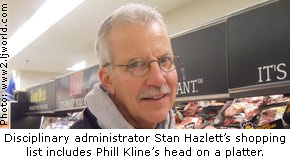 Topeka, KS — Former Kansas prosecutor Phill Kline will face an ethics hearing on February 21, 2011, on politically-motivated charges that he acted improperly during his investigations of abortion clinics, even though recently released documents show that investigators for the Disciplinary Administrator cleared Kline of any wrong-doing in 2008.
In a Disciplinary Report filed with the Disciplinary Administrator on May 22, 2008, a team of investigators carefully looked into the trumped-up ethics charges against Kline. Their determination left no question that Kline did nothing improper to warrant further action.
"After reviewing the substantial documentation in this case, it is the opinion of these investigators that there is not probable cause to prove that Phill Kline violated any of the rules of ethics," they wrote.
The investigators quoted from Judge Richard Anderson, who oversaw Kline's abortion clinic investigations as Attorney General, who said it was his finding that Kline stood "on firm legal ground in advancing his theory that the clinics have failed to comply with K.S.A. 65-6703(b)(2)", the law regulating late-term abortions.
They also found charges that Kline sought the identities of abortion patients to be without merit and that his appearance on The O'Reilly Factor cable news program was not improper or prejudicial.
Inexplicably, the report was buried by the Disciplinary Administrator's office and only discovered when Kline began reviewing 30,000 pages of documents in preparation for the upcoming hearing.
Kline investigated abortion abuses while serving as State Attorney General and later as Johnson County District Attorney between 2003 and 2008. As a result of his investigations, Kline filed 107 criminal charges against Comprehensive Health of Planned Parenthood in Overland Park for committing illegal late-term abortions and for making a "false writing" to cover up other crimes.
That criminal case, while still pending, continues to languish without action on the desk of one of Kline's political rivals, District Attorney Steve Howe, who appears to be looking to the outcome of the ethics hearing against Kline before deciding to prosecute Planned Parenthood, or bury the evidence of its crimes forever.
Attorneys for Planned Parenthood and another abortion clinic concocted a scheme to file the ethics complaint against Kline as a gambit to discredit their prosecutor and therefore scuttle the cases against them. Disciplinary Administrator Stan Hazlett has been their more-than-willing pawn. The former Sebelius administration established a political climate where abortion clinics were to be protected at all costs. This fueled the legal persecution that now threatens to strip Kline of his law license.
It is no secret that Hazlett has refused to drop the Kline case because of political differences. Hazlett was appointed by and serves at the good pleasure of the Kansas Supreme Court, which is compromised predominately of appointees of radical abortion supporter former Gov. Kathleen Sebelius, who now serves as Secretary of Health and Human Services in the Obama administration. During the Sebelius' tenure in Kansas, there was a well-documented concerted effort to cover for and protect abortion clinics from investigation and prosecution, even when their crimes involved the illegal abortion of healthy viable babies and the concealment of child rape. Hazlett's ethics prosecution of Kline is one of the last remnants of the Sebelius abortion-protection scheme.
"The Kline ethics case is a political lynching and we can't stand for it," said Operation Rescue President Troy Newman. "In Kansas there has been an aggressive crusade to persecute prosecutors that have tried to enforce Kansas abortion laws. The purpose is to discredit the investigation so that the criminal case against Planned Parenthood can be dismissed and the evidence against them destroyed. It is wrong for Hazlett to place his corrupt personal and political vendetta above the rule of law and above the health and safety of women. Maybe Hazlett is the one who should be facing ethics charges."
Doing more:
Please stand in support of Phill Kline by voicing your concerns with Disciplinary Attorney Stan Hazlett at (785) 296-2486, and by attending Kline's hearing, which is tentatively scheduled to begin on February 21, (yes, they are aware that is a federal holiday), at 9:30 AM at 701 S.W. Jackson, first floor, in Topeka, Kansas. Please call (785) 296-2486 to confirm the hearing date, time and room number.