Flora refuses to apologize for injuring Operation Rescue leader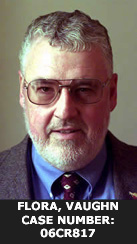 Hutchinson, KS — Kansas House Representative Vaughn Flora (D-Topeka) was found guilty yesterday of one count of battery for attacking Operation Rescue President Troy Newman last September during a gubernatorial debate at the Kansas State Fair.
Newman was wearing a cockroach costume to draw attention to Gov. Kathleen Sebelius' support of abortion and opposition to even the most minimum clinic health and safety standards that has led filthy and dangerous conditions at Kansas abortion mills.
Flora told the Associated Press that he refuses to apologize to Newman, even though the attack resulted in a bloody cut on Newman's head. Flora received a 30 day suspended jail sentence and was ordered to pay a fine of $100 and court costs of $128.
"I hold no ill will toward Mr. Flora, but really, the message being sent here is that if you are willing to part with a hundred bucks, you can punch a pro-lifer," said Newman. "That's really not much of a deterrent."
During the cockroach protest, Newman and another man danced through a crowd of over 2,000 people during the open-air political debate with antics that drew mostly laughter from onlookers.
"I think what Flora is ultimately guilty of is a lack of sense of humor," said Newman.