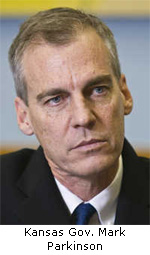 Topeka, KS – A Kansas bill that would have required abortionists to report the precise diagnosis used to justify late-term abortions has been vetoed today by Gov. Mark Parkinson, an abortion supporter.
"This bill would have helped law enforcement agencies determine if late-term abortions done after viability are being done in compliance with the law. That sounds like a no-brainer, but in Kansas, governmental cover-up for abortion abuses is a way of life," said Operation Rescue President Troy Newman.
Kansas law currently bans post-viability abortions unless the continuation of the pregnancy would present a "substantial and irreversible impairment of a major bodily function" of the pregnant woman. Since 2000, that law has been interpreted to include "mental health" as long as the mental health risk was "substantial and irreversible."
However, abortionists have only reported that post-viability abortions are done for nebulous "mental health" reasons. There has never been a recorded late-term abortion in Kansas history done to save the life or physical health of a mother.
A noted psychiatrist, Dr. Paul McHugh, who examined numerous late-term abortion files obtained during an investigation conducted by the Kansas Attorney General's office, noted that not one of the files he examined met the legal requirement that mental health impairments be "substantial and irreversible." Mc Hugh determined that most late-term abortions were being done because women felt they could not attend a prom, concert or sporting event, or for other "trivial" social reasons, and not for any legitimate psychiatric diagnosis.
"The only motive possible for denying law enforcement access to the actual mental health diagnosis is to protect abortionists who are operating outside the law. Parkinson's veto is virtually inviting illegal late-term abortions to continue in Kansas," Newman said. "With the new laws banning late-term abortions in Nebraska, and with LeRoy Carhart looking for a new location for his now illegal late-term abortion practice, this veto could cause Kansas to reassume the title as the Late-term Abortion Capital."
The bill, HB 2115, would also have allowed for families of women to sue abortionists if they believed the abortion was done illegally. It would have also codified the requirement that the second consenting physician needed for approval of late-term abortions be licensed in Kansas.