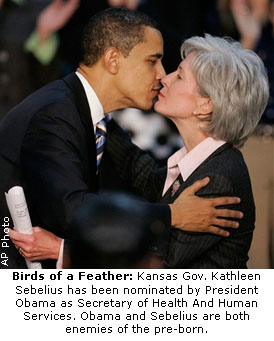 Operation Rescue Vows to Oppose Sebelius' Confirmation
Washington, DC – It is being widely reported this evening that President Barack Obama will nominate Kansas Gov. Kathleen Sebelius as Secretary of Health and Human Services on Monday.
"Obama's lack of judgment when it comes to cabinet appointments is especially evident in his choice of Sebelius," said Operation Rescue President Troy Newman. "Operation Rescue vows to aggressively oppose Sebelius' confirmation in the Senate. Her cozy connections to late-term abortionist George Tiller and involvement in numerous abortion scandals makes her unfit to serve."
Sebelius has supported, and even partied with Tiller, who faces trial next month on 19 charges of criminal abortions.
For details of Sebelius' extreme abortion entanglements visit Operation Rescue's Sebelius Fact Page.