BREAKING! Research attorney who tweeted disparaging comments from court has been suspended pending an investigation.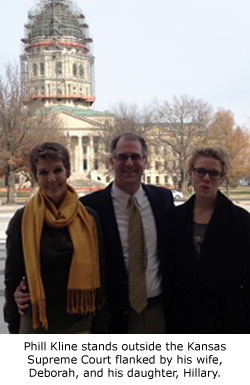 Topeka, Kansas – Phill Kline stood before a seven-member panel at the Kansas Supreme Court yesterday and together with his attorney Tom Condit, made a final defense against a politically motivated ethics case against him that has spanned six years.
The Supreme Court consisted of only two sitting members of the Court, Justices Dan Biles and Nancy Moritz. The other five members recused themselves and were replaced by two Appellate Court Judges, Karen Arnold-Burger and Henry W. Green Jr., and three District Court Judges, Edward E. Bouker, Bruce T. Gatterman, and Michael J. Malone.
Disciplinary Administrator Stan Hazlett began the 90 minute proceeding by attempting to mitigate allegations that he was biased against Kline. He then went on to make arguments that contradicted that claim.
Hazlett disregarded the recommendation of indefinite license suspension made earlier by a disciplinary panel that had heard the longest ethics case in the history of Kansas. Instead, Hazlett recommended permanent license revocation, the harshest action possible.
Hazlett claimed that he would prosecute any attorney who lied professionally or in his private life, and made of point of asserting that investigators that withhold the identities of the target of a criminal investigation from third party witnesses is unethical. The most vocal of the Judges, Biles and Moritz, appeared not to buy that argument based on their aggressive questioning on that point.
Hazlett also accused Kline of "heightening the condemnation of [abortionist George] Tiller" by appearing on the Fox News program The O'Reilly Factor in an attempt to taint the "potential" jury pool for a case that was not filed for another 46 days. Kline's defense contends that he made no inappropriate comments and was wrongfully charged under an ethics rule that was not in effect at the time of the conduct.
Also at issue was an Excel file on a CD that mysteriously appeared on the courtroom desk of Tiller attorney Dan Monet during one of Tiller's criminal hearings in Wichita. The file was generated by a low-level employee of the Attorney General's office and listed the names of late-term abortion patients of Tiller's who had stayed at the La Quinta Inn during their multi-day abortions. Kline had sought records from the La Quinta Inn in order to identify minor girls who had abortions so he could determine if they were safe and whether suspected child abuse had been reported. Kline has always maintained that he never sought the identities of adult abortion patients of Tiller's or any other abortion clinic.
Kline insists he never ordered the spreadsheet to be made and had no knowledge of it at all until he learned of it through news reports. Nevertheless, Kline was accused of plotting to use the names of adult patients for nefarious reasons. When an attorney for the Disciplinary Administrator's office was questioned how he knew Kline had prior knowledge of the contents of the disc and of his alleged intentions, the attorney responded that it was all implied by the fact that a copy was found among files after Kline vacated the District Attorney's office. That argument did not appear to impress the panel of judges.
The most contentious exchange came regarding Kline's attempt to enforce a Grand Jury subpoena for records from Planned Parenthood. The Grand Jury had requested to review any filings made on behalf of the Grand Jury. Hazlett accused Kline of improperly disregarding the Grand Jury's instructions. However Kline noted that the Grand Jury had asked to review, not approve all filings done in their behalf. Kline further argued that in any case, the motion he made was not filed in behalf of the Grand Jury. Instead, he filed the motion in his independent capacity as District Attorney, which he had full authority to do.
Condit told the Court that the case against Kline was one based on cherry-picking over 30,000 pages of documents and making inferences about statements in an attempt to attack Kline's honesty.
"No one could withstand the withering attack over five years," said Condit. "Every attorney should be frightened of this Disciplinary Attorney's office."
After the hearing, Condit was asked by reporters if Kline's ethics case was all about abortion. He responded, "Let me tell you something, folks. It's always about abortion. It's always about abortion."



Display Boards used in Kline's defense highlighted errors in the ten findings made against him. Each of the ten findings had at least one error, and some as many as four. Errors in the ethics case against Kline include:
Applying non-existent rules in three cases
Allegations that contradict previous Supreme Court findings in one case
Improper use of Rule 8.4 in five cases
Failing to find "materiality" four cases
Failing to find that Kline had "knowledge" in four cases
Allegations contradict Judges Anderson, Owens, King, or the DeFries report in five cases
Misstates the record in six cases.
Concerns about the biased culture that exists at the Kansas Supreme Court building surfaced after crude and prejudicial postings to Twitter were made during Kline's hearing by a research attorney for an Appellate Court judge. The tweets were mocking of Kline and sometimes crude, but more seriously appeared to show she had some prior knowledge of how the justices would rule.
The Associated Press is now reporting that the research attorney, Sarah Peterson Herr, was suspended Friday morning — just hours after Operation Rescue broke the story — pending an investigation.
"There can be no doubt that this case is a politically motivated one meant to destroy the prosecutor who had the nerve to criminally charge abortion clinics that were breaking the law," said Troy Newman, President of Operation Rescue and Pro-Life Nation, who attended the hearings. "They wanted to make an example out of him so no other prosecutor would dare to take on the abortion cartel. If they are successful at revoking Kline's law license, they will only succeed at putting women at further risk of harm from abortionists who will believe more than ever that they are above the law."
The Court gave no indication on when it might rule. Possible outcomes range from complete exoneration to permanent revocation of Kline's Kansas law license.
Source documents and more information can be found at KlineCaseFile.com.