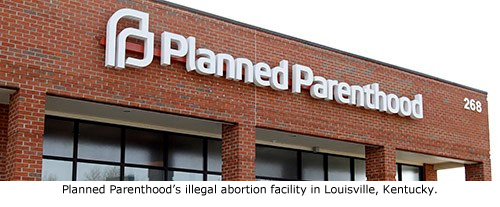 By Cheryl Sullenger
Louisville, KY — Gov. Matt Bevin announced yesterday that the state has filed suit against Planned Parenthood of Indiana and Kentucky seeking nearly $700,000 in fines for conducting an illegal abortion "scheme" without a facility license or required transfer agreements at their Louisville office.
The suit noted that the application Planned Parenthood filed last November, while still under the administration of former Democratic Gov. Steve Beshear, was a "sham" since if failed to include the necessary hospital transfer agreements necessary to qualify for an abortion facility license in Kentucky.
Allegations put forth in the lawsuit appear to show that a high-ranking official in the Beshear Administration sought to do one last favor for Planned Parenthood the day before the Bevin Administration was to take office.
Maryellen Mynear, head of the Office of Inspector General, ignored statutory law by telling Planned Parenthood that there was a "longstanding OIG policy" to allow abortion clinics to begin abortion services prior to being licensed. No such policy existed. She improperly gave Planned Parenthood the go ahead to begin abortions.
Planned Parenthood was certainly aware that the transfer agreements were a prerequisite for licensing.
"It looks like the previous pro-abortion administration tried to pull a fast one by getting Planned Parenthood into the abortion business before a new administration could realize that it did not meet the requirements of the law. This is political corruption at its worst," said Operation Rescue President Troy Newman. "Planned Parenthood has very powerful political allies that will do anything, including committing crimes and endangering women, to benefit or cover up for Planned Parenthood. That is not just in Kentucky, but nationwide. This incident is once more case in evidence of that."
On December 3, 2016, Planned Parenthood began conducting abortions illegally and unsafely without proper licensing and without the prerequisite medical transfer agreements, according to the suit.
Despite knowing that they were operating without a facility license, Planned Parenthood in Louisville openly discussed their abortion business with the media in January. Once Gov. Bevin's administration became aware of the situation, it ordered Planned Parenthood to halt all abortion services.
The suit further stated:
Between December 3, 2015 and January 28, 2016, when the Cabinet learned Planned Parenthood had been operating an unlicensed facility without hospital and ambulance transfer agreements, Planned Parenthood performed twenty-three (23) abortions, placing its patients at extreme risk to their health, safety, and lives had an emergency occurred.
The suit is seeking hefty fines against Planned Parenthood for every day it operated without a license and for every day it operated without the required transfer agreements for a total in fines of $684,000.
Gov. Bevin issued a statement about the suit saying, "Planned Parenthood should be required to pay fines in the maximum amount allowed by law in order to punish it for its callous and knowing violations of law and to deter it and others from such violations in the future."
"The law is clearly against Planned Parenthood and no amount of claiming to be the victim will weasel them out of this one. Their Louisville office should be permanently closed because they now cannot be trusted to act in compliance with the regulations," said Newman. "We applaud Gov. Bevin and his administration for sending the strong message that Planned Parenthood cannot be held above the law."
Read the Complaint