Kansas Department of Health & Environment refusing to honor subpoenas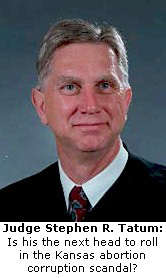 Olathe, Kansas – Judge Stephen R. Tatum postponed preliminary hearings yesterday in the Planned Parenthood criminal case and took under advisement a motion submitted by the Kansas Department of Health and Environment (KDHE) to quash subpoenas for evidence.
Johnson County District Attorney Phill Kline received abortion reporting records from the KDHE when he was the state's Attorney General. Kline issued a subpoena asking the KDHE to verify that the files in his possession are accurate representations. The KDHE filed a motion to quash the subpoena, saying that District Attorneys have no right to that information.
Judge Tatum indicated that he will rule on the motion on April 28. The preliminary hearing, which was scheduled to begin on Monday, has been moved to May 27 and 28.
Kline told reporters that his case can still move forward, but that the KDHE verification would have streamlined the process of verifying the authenticity of the records. Planned Parenthood is accused of falsifying records in order to conceal evidence of illegal late-term abortions.
"The saying, 'Justice delayed is justice denied,' is very appropriate in this case," said Operation Rescue President Troy Newman. "Planned Parenthood hopes for continuous delays, in order to stave off their day of reckoning. The judge is playing into their hands with this ridiculously long continuance."
"In recent weeks we have seen the resignations of the an attorney general and the top two officials of the Board of Healing Arts, all of which were involved in corrupt attempts to shield the abortion cartel," said Newman. "Whose professional head must roll next in order for these cases to get a proper hearing?"