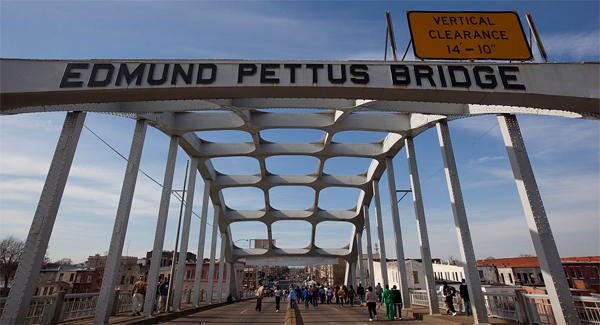 Selma, AL – Project Selma will hold a prayer rally tonight, June 19, 2015, with a march Saturday morning across the historic Edmund Pettus Bridge to protest an illegal abortion clinic currently operated in Selma by Samuel C. Lett. This clinic targets women of the Black community for abortions.
Project Selma is a coalition of leaders includes many prominent members of the black community, including Catherine Davis, Alveda King, Star Parker and others.
Declaring that #blackwomenmatter, these and other pro-life leaders will hold a prayer rally Friday night at 7:00 PM at Christ the King Cathedral, followed by a Saturday morning march across the Edmund Pettus Bridge at 9:00 AM.
All leaders will be available for comment at the 9:30 AM press conference directly after the march.
Operation Rescue's Cheryl Sullenger sent a written statement to be read at tonight's rally that discusses documented evidence of criminal conduct that is rampant throughout the abortion cartel, with Black women bearing the brunt of the abuse.
The timing of the event is significant. June 19 is a holiday known as "Juneteenth," which celebrates the end of slavery in America. Fifty years ago, Dr. Martin Luther King, Jr. led a famous Civil Rights march across the Edmund Pettis Bridge where 600 men and women were attacked by police with billy clubs and tear gas and driven back into Selma.
Operation Rescue, CEC for Life, and Life Legal Foundation teamed up to document illegal abortions taking place at Lett's Central Alabama Women's Clinic.

Alabama law requires medical facilities to be licensed that do more than nine abortions per month. The pro-life groups were easily able to document that Lett was exceeding that number.
A letter of complaint that included documentation was sent to Brian Hale, Deputy General Counsel of the Alabama Department of Public Health in July 2014, by Life Legal Defense Foundation's Senior Staff Counsel, Allison Aranda, who is representing CEC for Life and Operation Rescue.
However, eleven months later, no action has been taken by authorities to shut down Selma's illegal abortion mill that continues to endanger the mostly Black women to which Lett markets his illegal abortion business.
"For more than a year now, Alabama has had an opportunity to meet their gatekeeper responsibility of protecting the women of Selma, and of the state," said Catherine Davis of the National Black Pro-Life Coalition. "It is painfully obvious that the ADPH has abandoned that responsibility, giving Lett a free pass. No agency is currently regulating him and I can't help but wonder why he is allowed to prey on poor, black women – his main clientele."
Fr. Terry Gensemer, Director of CEC For Life, adds, "We have repeatedly contacted the ADPH, the Board of Medical Examiners, and Governor Robert Bentley regarding Lett's illegal abortion operation. No significant disciplinary action has been taken on behalf of women in Alabama, but there seems to be plenty of inaction on behalf of Samuel Lett. The Selma Project was organized to remind these state officials that every citizen's life matters, and no woman in America should be subjected to a back-alley abortionist, like that of Dr. Lett."
"We support and pray for the success of the Selma Project in their efforts to expose and correct the injustice that is ongoing in Selma today. The Alabama Department of Public Health must act to protect all life by shutting down Samuel Lett's illegal abortion operation immediately," said Troy Newman, President of Operation Rescue.