Election Day is finally here and this is our last chance to cast our votes in the most important election of our lifetimes!
We urge pro-life supporters to vote to re-elect President Donald J. Trump, who is the most pro-life President in history!
There are also critically important races across America that will determine which party controls the U.S. Senate and the House of Representatives. These races are vitally important because which ever party controls Congress, will control what happens to unborn babies.
Because Republicans are the Party of Life and Democrats are the Party of Radical Abortion, we urge you to vote for pro-life Republicans up and down the ticket to give President Trump support in advancing his pro-life, America First agenda.
There will be efforts underway today to discourage you from voting. Suppression polling numbers and pundit predictions will try to convince you that victory for President Trump and other pro-life candidates is hopeless. Don't listen to them!
We can win this with a Great Red Wave that sweeps America!
Tim Murtaugh, Director of Communications for President Trump's Re-Election Campaign, posted a statement on Twitter about the Democrats plan to cast doubt on Election Day results.  Please join us in praying that any attempts to sow doubt, chaos, discord, or even violence do not materialize. 
Biden's early vote lead is not enough & they know it.

Dems plan to call @realDonaldTrump's Election Day surge a "Red Mirage" to delegitimize his wave of support.

They'll try to create a smoke screen post-Election Day, even running TV ads to cast doubt on Nov. 3 vote.

Be ready.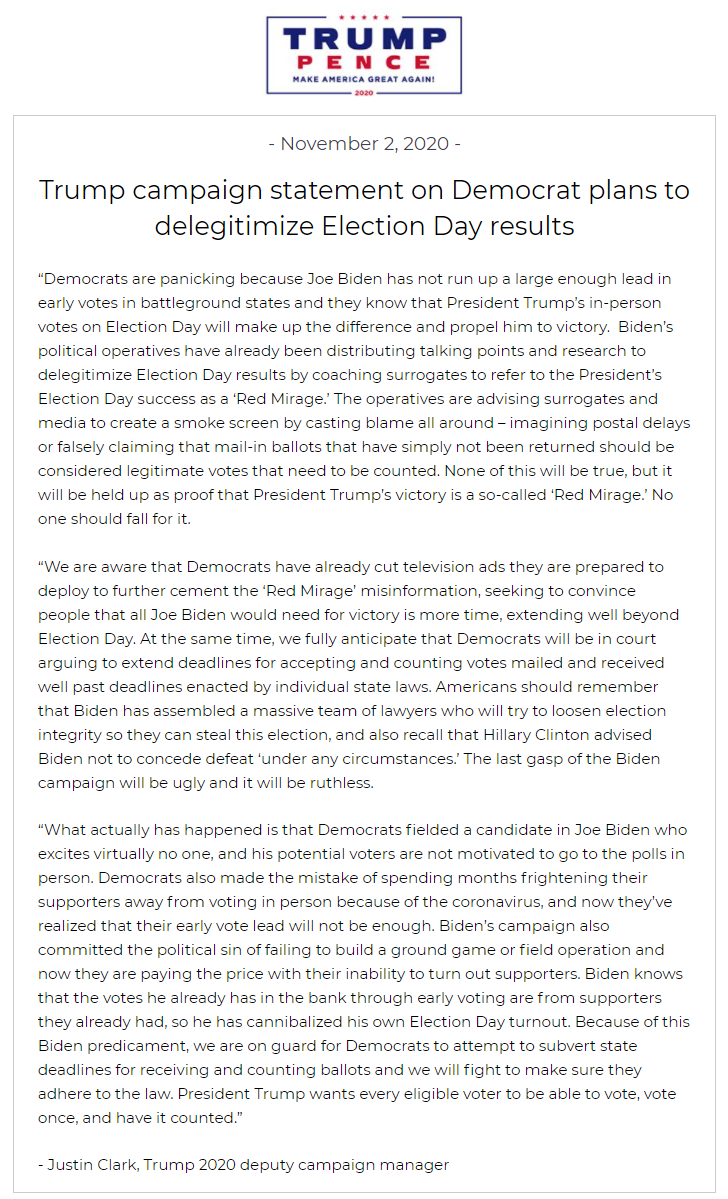 Originally tweeted by Tim Murtaugh (@TimMurtaugh) on November 2, 2020.
If you have not already done so, get to the polls today and Vote Pro-Life! 
If you need help getting to the polls, there are options for you! Call a friend, neighbor, or family member. Download the Uber or Lyft apps on your smart phone and use them to call for a ride. Call a taxi, if necessary!
Each pro-life vote is critically important to ensure our nation is in the hands of those who will work to protect and cherish Life and Freedom. 
Please join Operation Rescue in praying for victory for President Trump and all pro-life candidates, and for God to bless our great nation!