By Cheryl Sullenger

Des Moines, Iowa — A group of Iowa physicians and health care professionals have petitioned the Iowa Board of Medicine to begin making rules changes to halt the practice of dispensing abortion pills via webcam outside the physical presence of a doctor. The Board voted 8-2 to in June to begin the process. If the Board decides to approve the changes, it would overturn a Board ruling in 2011 that deemed the risky webcam abortions acceptable over the protests of pro-life groups, including Operation Rescue.
As expected, Planned Parenthood, which began the experimental webcam abortions in 2008, is not taking the Board's decision to deprive them of their "cash cow" lying down. Jill June, Executive Director of Planned Parenthood of the Heartland, is crying foul over an e-mail from a pro-life activist that gave the Governor's office a "heads up" that the petition was about to be filed.
The Des Moines Register obtained one e-mail sent from Jenny Condon to Brenna Findley, counsel to Gov. Terry Branstad, on June 18, 2013, a week before the petition was submitted to the Board. According to the Register, Findley did not reply to the e-mail, but she did attend a Board hearing on June 28 and encouraged the Board to take action on the petition.
June told the Des Moines Register, "The communication between the governor's office and anti-abortion activists confirms that there has been a synchronized effort to acquire a vote outlawing Planned Parenthood's telemedicine delivery system based entirely on politics rather than scientific fact."
However, June's false indignation is laughably ridiculous in light of her abortion business' own cozy political connections to the Attorney General's office.
In 2010, Operation Rescue became suspicious of the political obstructions we experienced during efforts to halt the controversial and experimental webcam abortion pill delivery scheme. We made an open records request for communications between Planned Parenthood and the office of Attorney General Tom Miller, a pro-abortion Democrat.
Instead of one e-mail, Operation Rescue received a massive, 906-page stack of communications in response to our request that showed a tight co-ordination between the Attorney General's office and Planned Parenthood on numerous levels, as well as evidence of interference by the AG's office in efforts by Operation Rescue to obtain county-level investigations into allegations that Planned Parenthood offices were using the webcam abortion scheme to evade Iowa law requiring the presence of a licensed physician during abortions.
Troy Newman, President of Operation Rescue, was involved in efforts to halt webcam abortions in Iowa after our undercover investigation documented the risky process. He described the relationships between Planned Parenthood representatives and employees of the Attorney General's office as revealed in the glut of documents obtained from Miller's office:
They attend the same parties, they ask about each other's surgeries or how the grandkids are. Some AG staffers subscribe to Planned Parenthood's e-mail distribution list. Planned Parenthood staffers have alerted the AG's office to potential negative information about political opponents and even forward some of our press releases to Miller's people. Miller's office has aided PPH staffers in pursuing employment opportunities in the AG's office.
Certainly, one e-mail from a pro-life supporter to a member of the Governor's office pales in comparison to the voluminous evidence of collusion over the years between Planned Parenthood and the Iowa Attorney General's office, which has worked overtime to protect Planned Parenthood's electronic money-making scheme. Their coziness, cronyism and corruption are the real story.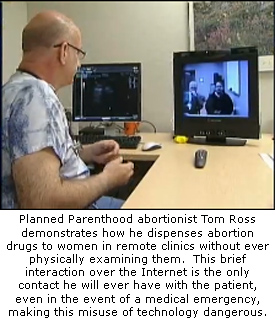 Using the experimental system, Planned Parenthood aimed to increase abortion profits by cutting the cost of having to maintain licensed physicians at offices all over the state. The system involves an abortionist, who sits at a computer station in Des Moines and briefly interviews abortion patients over a Skype-like connection. Then he pressed a button on his computer screen to release a drawer at the outlying clinic that contains the pills. Women take one round of pills at the office then are sent home to self-administer the rest of the abortion drugs, which cause an unmonitored and often painful abortion that is similar to a miscarriage.
In May 2010, Planned Parenthood admitted it was about to implement a 5-year plan to place their webcam abortion system in every Planned Parenthood office in the nation. Once the news about the plan was out, legislatures in 11 states passed laws to ban the abortion pill distribution system in order to protect women from substandard care. This caused Planned Parenthood to scrap their plan. Currently, Minnesota is the only state outside Iowa to implement webcam abortions.
"Planned Parenthood is fighting to keep what is left of their pet profit-producing abortion pill scheme by attempting to vilify the Governor's Office when, if the truth be known, it is really Planned Parenthood that is in bed with the Iowa Attorney General's office, which as overtly acted to protect webcam abortions," said Newman.
"We applaud efforts by the Iowa Medical Board to protect women from Planned Parenthood's predatory scheme that subjects women to care that is well below accepted standards and those efforts are not derailed by leftist media spin and Planned Parenthood's false hysteria."
Read the report with link to the 906 pages of communications between Planned Parenthood and the Iowa Attorney General's office.

[Note: We erroneous noted in an earlier version of this story that Mark Bowden was General Counsel for the Iowa Board of Medicine. In fact, he is the Executive Director of the IBM and noes not provide legal counsel to the Board. We regret the error.]