By Cheryl Sullenger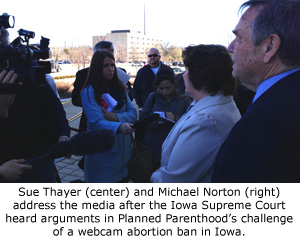 Des Moines, IA — The Iowa Supreme Court took up the issue of webcam abortions this morning during a hearing that revealed much about Planned Parenthood's willingness to conceal the dangers of the remote abortion pill distribution scheme, first made public by Operation Rescue in 2010.
As the person who filed the original complaint against webcam abortions in 2010 after we conducted an investigation and published an expose' on the process, I was glad to be able to attend today's hearing.
The focus of today's hearing involved a 2013 Iowa Board of Medicine decision to issue standards that require a physician to personally examine a patient prior to dispensing abortion pills. This effectively banned Planned Parenthood's remote dispensing system. An abortionist in Des Moines can briefly visit with a patient via an internet video conferencing system where, with the push of a button, the abortionist can open a drawer at an outlying clinic containing abortion pills for women to take. The Board ruled that this practice violated the standard of patient care. Planned Parenthood immediately challenged that decision in court.
Planned Parenthood told the seven-justice panel that since 2008, Planned Parenthood of the Heartland had done 7,000 abortions using the experimental webcam distribution process, there has been no safety concerns. It claimed that the Iowa Board of Medicine did not base its decision to ban the process on medicine.
Most disturbingly, however, was Planned Parenthood's request that the Iowa Supreme Court rule that abortion is protected by the Iowa Constitution, which does not specifically address abortion.
"The Court would have to read something that just isn't there in order to find that abortion is a protected right in the Iowa Constitution," said Operation Rescue President Troy Newman.
In 2010, Operation Rescue staff filed a complaint with the Iowa Board of Medicine, alleging patient standard of care violations. At that time, the IBM was controlled by appointees of pro-abortion Democrat, former Gov. Tom Vilsack. That Board dismissed the complaint without action.
However, upon the election of Republican Gov. Terry Branstad, new appointees to the board considered a petition submitted by a dozen Iowa physicians asking the Board to adopt regulations barring the webcam abortion process. After extensive hearings, the Board agreed that the remote abortion pill distribution scheme was not in the best interest of patients.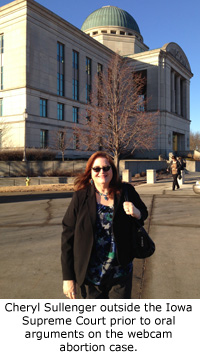 A lawyer with the Iowa Attorney General's office argued in defense of the regulations. He argued that webcam abortions do not significantly improve access to abortions to women, based on findings of a study submitted by Planned Parenthood.
I was frankly disappointed in the State's arguments. The attorney seemed unprepared to answer questions about the safety record of webcam abortions, indicating that the record on safety is "thin." He even admitted to the Court that he personally did not agree with the Iowa Medical Board's decision to ban webcam abortions.
It should be noted that Iowa Attorney General Tom Miller was hostile to efforts to ban webcam abortion in Iowa, likely due to his cozy relationship with former Planned Parenthood Director Jill June.
After the hearing, I was present at a press conference masterfully handled by Michael Norton, and attorney for the Alliance Defending Freedom. He rebutted Planned Parenthood's false claim that webcam abortions are safe by pointing out that complications, including patient deaths, are "under reported if reported at all."
He introduced Sue Thayer, a former clinic director for Planned Parenthood, who is now pro-life. She took issue with Planned Parenthood's claim that its employees who conduct the ultrasounds prior to the brief webcam consult with an abortionist are highly trained. She said that workers in her clinic that conducted transvaginal ultrasounds only had a high school education and only about two days of training. In contrast, a pregnancy help center where Thayer now works requires that sonographers have a four-year degree and possess certification in ultrasonography.
Thayer also told the media of women who returned to her clinic suffering complications. One upset woman returned to Thayer's northern Iowa clinic with the remains of her dead baby and complained of having only been told that the abortion process would be like having a heavy period.
Also present was Jenifer Bowen of Iowa Right to Life, who has fought against webcam abortions since 2008 and has worked with Operation Rescue to ensure women are protected from the dangerous process.
The case, Planned Parenthood of the Heartland v. Iowa Board of Medicine, will now be decided by the Iowa Supreme Court. It is unknown when a final decision might be expected.