By Cheryl Sullenger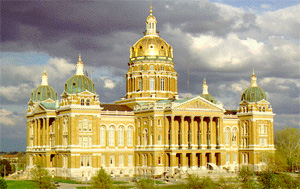 Des Moines, IA – A bill has been introduced in the Iowa Legislature to ban what are known as "telemed" or "webcam" abortions in that state. The bill was introduced by Republican State Rep. Matt Windschitl and 18 co-sponsors.
"If I could stop all abortion in this state, I would," Windschitl told the Des Moines Register.
"Operation Rescue supports this bill will protect women and babies by halting the dangerous webcam abortion scheme in Iowa. We stand ready to assist, if called upon," said Operation Rescue President Troy Newman.
There have been attempts to ban the abortion pill distribution scheme since 2010 when Operation Rescue released an investigative exposé on the experimental practice developed by Planned Parenthood of the Heartland. While there was popular support for ending the webcam experiment, efforts to end it were initially rebuffed by the Iowa Board of Medicine. At that time, the IBM, as well as the Governor and State Attorney General's offices were occupied by pro-abortion Democrats that rejected efforts to protect women from Planned Parenthood's below-standard-of-care practice.
Last year, at the request of 14 Iowa physicians, the Iowa Board of Medicine – now completely revamped by pro-life Republican Gov. Terry Branstad — voted to adopt regulations to halt the practice of dispensing abortion pills to patients without the presence of a licensed physician. Planned Parenthood successfully sued to block implementation of the new regulations and continues to dangerously dispense abortion drugs to women who never receive a physical exam or follow-up from a doctor.
The fact that the Board regulations are tied up in court prompted the introduction of the new legislation.
"I appreciate the separation of the judicial, executive and legislative branches," Windschitl told reporters. "As a member of the legislative branch, I'm doing what I know to be correct and right."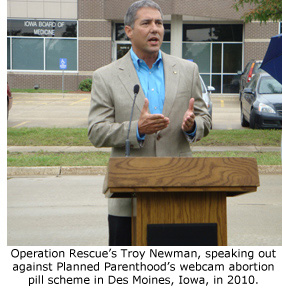 During the webcam abortion process, an abortionist briefly interviews abortion patients, who are at another clinic, over an internet videoconferencing connection. The abortionist then dispenses the pills by pressing a button on a computer screen that releases a drawer at the outlying clinic containing the abortion drugs. The women are sent home to complete the long, painful, and bloody abortion process at home in an unmonitored environment.
Webcam abortions created the possibility of dramatically increasing revenue for Planned Parenthood by reducing the number of abortionists on staff while expanding abortion services into cities where Planned Parenthood maintained offices. But its plans of abortion expansion and big profits have simply not materialized.
Since Planned Parenthood first began experimenting with the internet abortion pill dispensing process in 2008, the number of medication abortions has not experienced the expected increase, The number of medication abortions has remained relatively steady since the advent of webcam abortions in Iowa. Meanwhile surgical abortions dropped by almost half.
In fact, the overall number of abortions in Iowa has actually decreased by a surprising 30% since 2007, the year before the introduction of webcam abortions, despite the scheme to increase abortion availability.



Source: Iowa Department of Health
Operation Rescue's exposé alerting the nation to Planned Parenthood's webcam abortion scheme and its 5-year plan to put the system in every Planned Parenthood office in the country, 14 states have passed restrictions that require a licensed physician be present when abortion pills are dispensed, effectively banning the process of webcam abortion process. The planned national expansion of the webcam system has since been scuttled.
"In a climate of increased pro-life sentiment and decreased demand for abortion, losing the webcam 'cash cow' has been a financial blow to Planned Parenthood," said Newman. "We are proud of our work in exposing Planned Parenthood's webcam abortion pill scam and appreciate the work of Iowa Right to Life in their persistence in opposing this dangerous abortion process. The passage and implementation of this legislation will undoubtedly save lives and will represent a huge victory for women and their babies. We encourage Iowa lawmakers to move it quickly through the system."