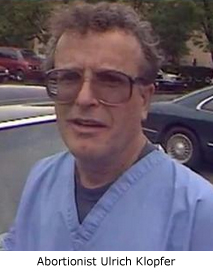 Gary, IN — Abortionist Ulrich Georg Klopfer has been criminally charged in Lake County, Indiana, with failing to file a timely report, a Class B Misdemeanor that carries a penalty of up to 180 days in jail and a $1,000 fine.
The charge is related to an incident of statutory rape on a 13-year-old girl. Klopfer, who gave the girl an abortion at his Gary, Indiana, abortion clinic in September, 2012, filed the report nearly four months later than state statute requires, leaving the girl at risk of further sexual abuse.
The non-reporting of the young girl's abortion was discovered by Lake County Right to Life after reviewing Terminated Pregnancy Reports obtained through an open records act request. Abortionists in Indiana are required the reports within 10 days of abortion procedures.
"We hope this is the first criminal charge of many that Klopfer will ultimately face," said Troy Newman, President of Operation Rescue, which reported earlier this week that Klopfer has been placed under investigation by the Special Victim's Unit of St. Joseph County. "We commend of Indiana Right to Life and its affiliates for their stellar work in uncovering these abortion abuses and getting the information into the hands of prosecutors and oversight agencies so Klopfer can be brought to justice."
Last year, Indiana Right to Life obtained thousands of Terminated Pregnancy Reports and discovered 1,590 errors and omissions on the reports related to abortions in Lake and Allen Counties where Klopfer worked at two abortion clinics. To date, over 1,200 complaints have been filed against him.
Negative publicity over Klopfer's failure to report child sex abuse led a physician that provided hospital care for Klopfer's botched abortion victims to quit the agreement, forcing Klopfer to close his Ft. Wayne abortion clinic earlier this month.
With his Ft. Wayne abortion clinic now shuttered, Klopfer continues to work at his Gary facility, where he has come under additional scrutiny after a reporter published her investigative findings that showed there is no record of Klopfer having the required transfer agreement with a local hospital in that city.
Operation Rescue provided consultation for Indiana Right to Life concerning this case.
Read the charging documents.