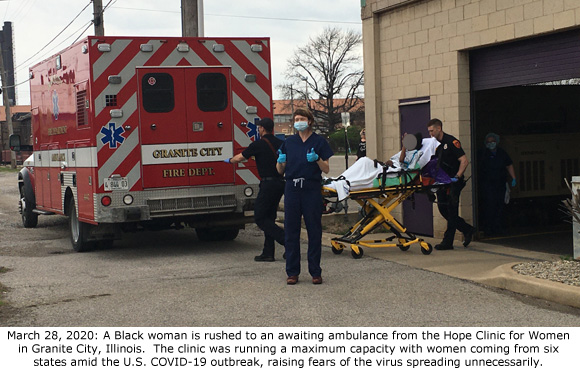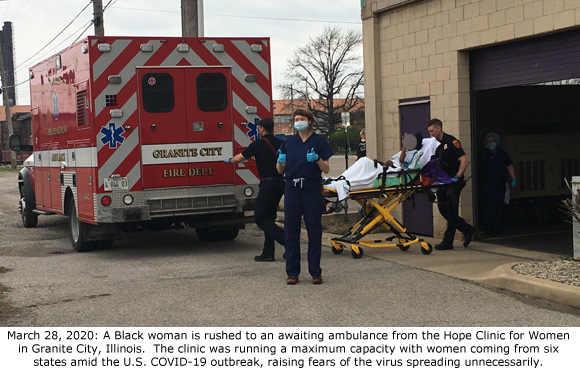 By Cheryl Sullenger
Granite City, IL – It was a weekend characterized by stay-at-home orders, hand-washing decrees, social distancing, and limits on groups to under ten people, but at the Hope Clinic for Women in Granite City, Illinois, those rules that all Americans were expected to follow, were blatantly ignored. 
At that abortion facility, it was a weekend to pack in the women like sardines so they could be herded through the clinic for abortions. It was in a very real sense, a germ-sharing party in progress.
License plates reflected a booming interstate commerce, with cars coming from six different states, in violation of the National Coronavirus Taskforce recommendations to avoid travel from state to state in order to limit the spread of the virus. At least one car came from as far away as Florida.
It was estimated that perhaps as many as 40 women reported to the Hope Clinic for Women on the morning of Saturday, March 28, 2020.
The parking lot was so full it could not hold another vehicle. Drivers were dropping women off, and returning later to collect them for transport home.
For some reason, the clinic's abortionist, Erin King, appeared to think the pro-life presence outside her abortion business was amusing, and came out in her surgical scrubs and a big smile to take photos of praying Christians who were attempting to offer help to women and save lives.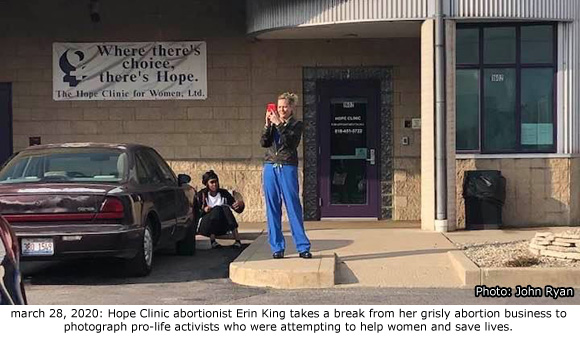 In fact, the entire day seemed to be a bit of a joke to the staff – even when one woman was injured so badly that an ambulance was called.
Shortly after 11:00 a.m., a Granite City Ambulance arrived. A Black woman, who one pro-life activist identified as a known abortion patient, was taken out of the clinic on a gurney and loaded into the ambulance while one clinic worker in blue surgical scrubs cavalierly gave the thumbs up sign to the pro-life activists who watched with concern for the injured woman.
Nothing to see here. Move along.
While the clinic worker wore a mask and gloves, the ambulance crew wore only gloves. Several states, such as Iowa, have ordered abortion facilities to halt elective abortions in order to conserve the supply of personal protective equipment (PPE) for hospital workers and first responders. No such order is in place in Illinois.
According to witness Rose Wascher, who provided Operation Rescue with photos and details of what she saw at the Hope Clinic for Women, the ambulance bypassed a large hospital just across the street from the abortion facility and appeared to be headed across the Mississippi River into St. Louis, Missouri. Perhaps this is because Erin King holds hospital privileges – not in Illinois – but at Barnes Jewish Hospital in St. Louis, which is 17 minutes away from the abortion business.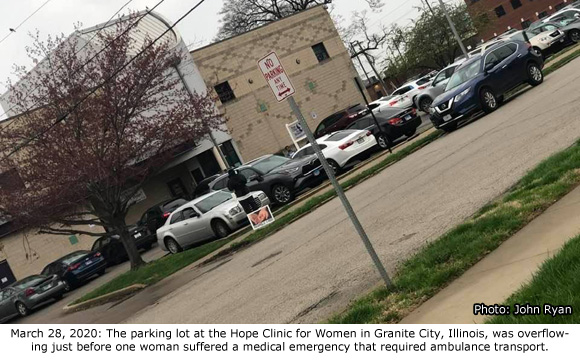 "With women coming from six different states for abortions and being forced together into an over-crowded waiting room, the threat exists that when the women go home, they could take the virus with them and spreading it in their home communities," said Troy Newman, President of Operation Rescue.  "The Hope Clinic is not only placing the lives of women at risk with botched abortions, as they did over the weekend, but are also endangering Americans over a vast geographical region, and could be prolonging the current health crisis. This is a public health emergency that must be addressed by the State of Illinois. For the good of the public, Illinois must shut down their abortion mills."
Please click this link to contact Illinois Governor J.B. Pritzker and demand he shutter Illinois abortion facilities to prevent the spread of COVID-19.