Houston, TX – The Texas Medical Board has suspended the medical license of abortionist Theodore M. Herring for conducting 268 abortions illegally without having the required privileges at a hospital within 30 miles of his Houston abortion clinic, which was ordered closed by the Texas Department of State Health Services.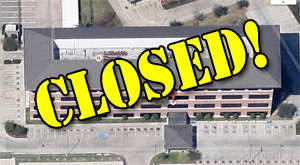 According to TMB documents, Herring failed to even apply for hospital privileges after the passage of highly publicized abortion clinic safety law that was passed last year. The violation was discovered during an inspection at Herring's A Affordable Women's Medical Center abortion clinic on December 11, 2013.
"The clinic regulations in Texas are successfully working to shut down seedy abortion operations that are operating illegally and posing a danger to the public. When abortion clinics close, lives are saved. It couldn't be clearer how much this law is necessary in order to protect women and babies from predatory and dangerous abortionists," said Troy Newman, President of Operation Rescue. "We continue to urge the passage of similar laws in every state."
Herring submitted an application to obtain hospital privileges on January 15, 2014 and submitted a plan of correction to the Department of State Health Services, which notified him that a correction plan was insufficient and that he remained in violation of state law.
Yet, Herring continued to supply abortions and was inspected again on February 7, 2014, where he once again admitted that he was in non-compliance.
Herring's license was temporarily suspended on February 13 after the TMB found that he "has engaged in ongoing violations of the law that make his continued practice of medicine a continuing threat to the public health and safety," according to the suspension order.
"The closure of this illicit abortion operation and the suspension of Herring's medical license further exposes the systemic 'above the law' attitude so common among abortionists who routinely defy safety regulations at the expense of the health and safety of their patients," said Newman.
The new law, known as HB 1, was passed last year during a second special legislative session was called by Gov. Rick Perry after a filibuster by pro-abortion Democrat Wendy Davis caused a near riot in the statehouse that delayed a vote on the measure until after a previous special session had expired. The law went into effect on November 1, 2013. HB 1 was challenged in court and initially enjoined by a lower court, but the U.S. Supreme Court ruled that the law could indeed go into effect while the case is litigated. That led to the closure of nearly a dozen abortion clinics, seven of which were permanent.
Hearings on the suspension and clinic closure are expected later this month.