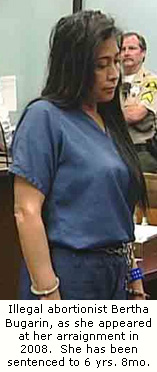 San Diego, CA — Illegal abortionist Bertha Bugarin was sentenced in San Diego County on Friday to 6 years, 8 months on nine felony counts of committing abortions without a medical license. Judge Charles Gill ordered that Bugarin's sentence run concurrently with a sentence she is currently serving on similar charges in Los Angeles.
"Bugarin's sentence was less than we had hoped, given the number of felonies, and the seriousness of her crimes. Each time Bugarin committed an abortion, she knowingly risked the lives the women she victimized," said Operation Rescue spokesperson Cheryl Sullenger.
"Bugarin was a cold-hearted predator who was unconcerned with the law or women's lives. All that mattered to her was making money. Putting her in jail was the only way she was ever going to stop. Thank God she is behind bars where she belongs."
Bugarin appeared in court in shackles, wearing a blue prison jumpsuit.
She made no statement of her own, but Bugarin's attorney, asked for leniency and tried to minimize the harm done by Bugarin to her victims, even though one woman was hospitalized three times due to a botched second-trimester abortion. Bugarin had no medical training.
Present at the hearing was one of her former abortionists, Phillip Rand, who surrendered his medical license after botching an abortion at Bugarin's Santa Ana mill in 2003. Rand, now nearly 90, was heard to say he was unhappy with the leniency of Bugarin's sentence, indicating that there was some bad blood between the two concerning money Rand says she still owes him.
Bugarin once ran the second largest abortion chain in California, operating eleven abortion mills in the 1990s. She was known to hire abortionists who were sex offenders, substance abusers, unlicensed, and professionally incompetent. Operation Rescue began to expose problems at her shoddy abortion mills in 1999. In 2000, her medical director, Nicholas Braemer, lost his medical license and five of her clinics soon closed. In the next few years, several other abortionists who worked for Bugarin lost their medical licenses, or were exposed for operating illegally. [Read background article.]
"It is hard to fully describe the horrific nature of Bugarin's abortion business. To call it a 'shop of horrors' is no overstatement," said Sullenger. "We pray for Bugarin's repentance and salvation during her extended stay in prison, and that she makes sincere efforts to amend her life."
Watch archived video from July, 2008, about this case below.