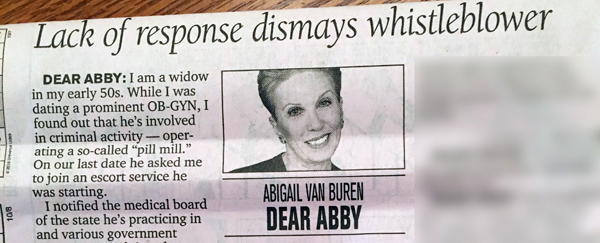 [Full letter posted below]
By Cheryl Sullenger
Wichita, KS – A letter that appeared last Thursday in the nationally syndicated advice column "Dear Abby" caught my husband's attention.
"Hey, you have to see this," he said as I drank my morning coffee and scanned abortion-related news stories on my iPad. He began to read the letter.
Dear Abby: I am a widow in my early 50s. While I was dating a prominent OB-GYN, I found out that he's involved in criminal activity – operating a so-called "pill mill." On our last date, he asked me to join an escort service he was starting.
The story sounded so familiar. Suddenly, I realized I had spoken to this letter writer at least twice and knew the identity of Ob/Gyn she was referencing.
My husband continued reading the letter.
I notified the medical board of the state he's practicing in and various government agencies. He's doing abortions, which means he has access to vulnerable young women. Knowing this, I have lost trust in our medical establishment. Nothing seems to affect this man's success and practice.
At Operation Rescue, we have to be careful about anonymous tips from out of the blue. We usually require documentation before we can make complaints or publish reports to make the situation known to the public. But this woman had little more than her horrific experience with this man who betrayed her trust in him.
She was obviously traumatized by her experiences with this abortionist. All she really wanted was for someone to believe her enough to look in on him and make sure he was not victimizing vulnerable young women or recruiting them into prostitution, as he and tried to recruit her.
So much of her story rang true as she related it to me. But with all the appropriate complaints already on file, there was little I could do for her.
Until now.
It is time for the public to know more about her allegations. I am releasing his name so that others might beware if they ever happen to encounter him.



The man she told me about was Joel Wayne Match.
A little research showed that he was indeed a Virginia abortionist with a history of recent medical board discipline. Public records validated at least part of her story.
His medical license was summarily suspended on May 1, 2012, by the Virginia Board of Medicine, which noted that "Match's ability to practice constituted a substantial danger to public health and safety." This was based upon information that showed Match had improperly prescribed narcotics to several women. [Read suspension notification]
In essence, Match was running a "pill mill," just as our informant had said.
On October 17, 2012, Match was placed on a six-month term of suspension beginning on the day of his summary suspension and ending on November 1, 2012. He was then ordered to serve 6 months of probation, and allowed to resume practice with some limitations.
On May 1, 2013, a year to the day after Match's license was initially suspended, the Virginia Medical Board terminated his probation and allowed him to practice freely.
But illegally prescribing drugs was only one of Match's patient care issues.
Match was sued in 2009, after he negligently performed an abortion on Regina Tetteh a at the now-closed Nova Healthcare Center abortion clinic in Fairfax, VA.
Match had informed Tetteh that her pregnancy was in her uterus when in reality she suffered from an ectopic pregnancy. Match noted in Tetteh's medical record that he had successfully completed the abortion of an 8 week pregnancy, even though a 12-week old fetus remained dangerously lodged in her fallopian tube.
Tettah began to experience increasingly worse pain and bleeding after the abortion. Instead of sending her to an emergency room, Nova rescheduled her for a second abortion several days later. Before she could make that appointment, Tettah collapsed in pain after her fallopian tube exploded, threatening her life. She unsuccessfully attempted to crawl to a phone to call for help. Her fiancé discovered her later on the floor of their home and called 911. Tetteh survived her ordeal but continued to experience pain and other issues for years.
In 1993, Match was sued after he conducted an abortion on another patient, Tina Lake, in April 1991. Lake suffered permanent physical injury during the abortion in which her uterus and an artery were lacerated. Severely bleeding, Lake was rushed to a hospital where emergency room doctors were forced to remove her uterus completely in order to save her life.
At trial, Lake won, but was denied a sanctions judgement by the trial judge. However, in 1997, the Supreme Court of Virginia ruled that the trial judge erred and the case was returned to the lower court, which awarded Lake an unknown sum of money.
Now, our informant appears to indicate that Match still may be involved in illegal activity. There is enough here, in my opinion, for the medical board, health department, or even law enforcement to at least look into his practices.
However, Match's current employer or place of business remains a mystery.
His last known place of business was in Manassas, Virginia, according to his online Virginia medical license profile. However, on September 28, 2015, the only abortion facility in Manassas, the Amethyst Health Center for Women, closed its doors for good.
I tracked Match to the "DC metro area" and to a ghost company called "Primary Care for Women" in Reston, VA. Neither location had a working phone number.
A search of the Virginia Secretary of State's business listings had two entries for Primary Care for Women, but both businesses' status was listed as "Purged." There was no listing on the District of Columbia Business License Verification search page for a business with that name.
Where Match is working now is anybody's guess.
Also complicating efforts to investigate Match – or even complain about him — is Virginia's change in administration just last year. Gov. Terry McAuliffe has taken aggressive measures to nullify many abortion oversight and safety laws. Under his rabidly pro-abortion administration, the Department of Health has been infused with those who can be counted on to look the other way when abortion abuses are reported.
Match is out there somewhere, presumably conducting his shoddy brand of abortions and perhaps, as our informant strongly believes, possibly even recruiting vulnerable young women into prostitution.
Meanwhile, one of his traumatized victims, who told me she still fears for her safety, continues to reach out to anyone possible — even with a desperate letter to "Dear Abby" — hoping someone, somewhere will listen.