UPDATED contact information below!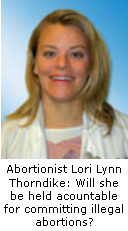 Fargo, North Dakota – Operation Rescue has learned through an intercepted secret e-mail that the North Dakota State Board of Medical Examiners (NDBME) has notified the Red River Women's Clinic, the only abortion clinic in North Dakota, that the license of abortionist Lori Lynn Holst Thorndike has been restored and is currently in "Active-Unconditioned" status in spite of her operating illegally without an active medical license in that state since June 30, 2010.
This news particularly shocked pro-life activists at Operation Rescue and at local pro-life offices because there had been some indication given by the NDBME that a decision would not be made until the Board met on November 19, 2010.
The NDBME has attempted to downplay Thorndike's lack of active licensure by indicating that it was an "administrative oversight."
"It's unbelievable that the Board would decide to overlook clear criminal activity and make a back-room deal to restore Thorndike's license while leading pro-life supporters to believe that they are still looking into the matter," said Operation Rescue President Troy Newman. "If that's true, that's a dishonest and unethical way to deal with the concerned public."
Tammi Kromenaker, Director of the Red River Women's Clinic, expressed relief at the news in a secret e-mail sent to supporters. She told her readers to "keep it hush hush" until after the NDMBE meeting scheduled for November 19th. Referring to the reinstatement of Thorndike's license, Kromenaker wrote, "Whew!…This pretty much made my month [two smile face icons]. We are pretty happy around here & doing some happy dances." Kromenaker included an attachment from the NDBME web site showing Thorndike's newly restored license status.
North Dakota law is specific that only licensed physicians may legally do abortions. It is a Class B Felony to commit abortions without a license in that state.


Even the NDBME Executive Secretary Duane Houdek admits that Thorndike operated without a valid medical license. "It could be that she practiced once or twice," Houdek told the local newspaper on October 30, 2010.
The NDBME web site had showed that Thorndike's license status was "Inactive – Expired." Then yesterday, a week and a half before NDBME officials announced they would make a decision, Thorndike's license now appears in good standing.
"While the Board may be trying to sweep this illegal abortion scandal under the rug, there can be no doubt that crimes have been committed. The Attorney General still has yet to decide if criminal charges should be filed," said Newman. "It is time for the public to let the Board know that their protection of illegal abortion activity is unconscionable and to remind the Attorney General that it is his duty to enforce North Dakota laws."
Contact Duane Houdek of the NDBME: (701)328-6500
UPDATED! Contact State's Attorney Birch Burdick: (701)241-5850; E-mail form page
Read the E-Mail and attachment
Background