Full video of the press conference below!
NEW! Link to photos below!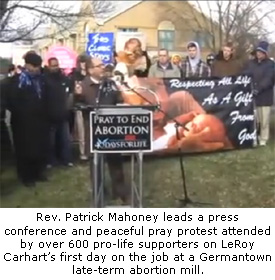 Germantown, MD – Over 600 pro-life supporters braved wind and bitter cold to stand in protest of LeRoy Carhart's late-term abortion business that was slated to begin in Germantown, Maryland, yesterday. Only a handful of pro-abortion counter-protesters attended.
A press conference was led by Rev. Patrick Mahoney of the Christian Defense Coalition where about a dozen pastors and representatives from national and local pro-life organizations addressed the swelling crowd. Some groups participating were the Family Research Council, Students for Life in America, Concerned Women of America, Pro-life Unity, Living Hope for Life, Defend Life, and others. Operation Rescue helped organize the event.
The groups stood in unity with the message that Carhart and his abortion business is not welcome in Maryland. It is a message that has been echoed across the country.
Carhart was blocked from opening a late-term abortion mill in Kansas last year. This year, Nebraska passed a groundbreaking law banning all abortions after 20 weeks gestation. Carhart then threatened to "expand" with new late-term abortion clinics in Maryland, Indiana, and Iowa. However, Carhart instead hired on at an existing abortion mill in Germantown, Maryland. Carhart's "new" Indianapolis abortion clinic was one he has been working at part-time for years. In Iowa, pro-life supporters packed the Council Bluffs city council meeting to oppose Carhart's rumored purchase of a city-owned lot.
Meanwhile, in Germantown, the condo association that manages the location of Germantown Reproductive Health Center where Carhart now works met on Monday and determined that as much as the new late-term abortion business distressed the other tenants in the business park, there was presently no legal way to remove the abortion clinic from the property.
Pro-life leaders have asked for a boycott of the business park as long as Germantown Reproductive Health Services remains there.
Rev. Mahoney made it clear that yesterday's protest was only the beginning of a long-term effort to top abortions in Germantown.
"The vast majority of Americans oppose late-term abortions, and even more oppose late-term abortions in their community. The people of Maryland and D.C. metro area have sent a resounding message that LeRoy Carhart and late-term abortions are not welcome there. Operation Rescue will continue to work with pro-life groups and churches in Maryland until Germantown is abortion-free," said Operation Rescue President Troy Newman.
NEW! VIEW PHOTOS (Courtesy of Peter Shinn and Rev. Mahoney)
MORE PHOTOS! (Courtesy of Michael Martelli)
The video below is courtesy of www.KickOutCarhart.com.

Press Conference Germantown MD 12/6/2010 from Michael Martelli on Vimeo.