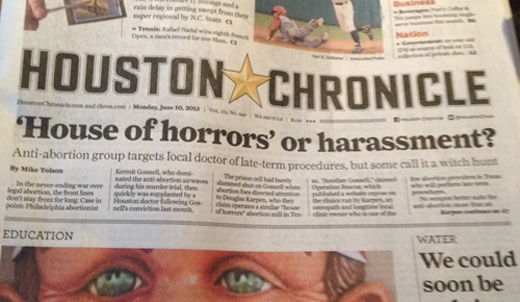 Houston, Texas – Yesterday The Houston Chronicle posted a banner headline article on page A-1 that continued to hammer late-term abortionist Douglas Karpen, noting details of several malpractice suits that alleged horrific abortion complications, including the late-term abortion death of 15-year old Denise Montoya in 1985.
This article came on the heels of letters sent to by Rep. Phil King and 20 state legislators to Richard Kleczynski with the Homicide Division of the Houston Police Department, Ms. Mari Robinson, executive director of the Texas Medical Board, and David L. Lakey MD., Commissioner of the Texas Department of State Health Services, requesting a full investigation into allegations that Karpen is conducting illegal late-term abortions then intentionally killing viable babies that are routinely born alive at this Houston abortion clinics. [Read the letters]
Rep. King also sent a DVD copy of an unedited interview of three former Karpen employees conducted by Mark Crutcher of Life Dynamics, Inc. on May 3, 2013, to Lt. Kleczynski in order to aid the police investigation.
Operation Rescue originally was contacted in by the employees, who provided documentation of their accusations, including four cell-phone photos of late-term aborted babied that had large gashes in their necks. Former Karpen employee Deborah Edge told Operation Rescue and Life Dynamics, Inc. that Karpen would twist the heads off babies born alive. The wounds suffered by the babies in the photos are consistent with this description. [Read OR's full exposé on Karpen, including photos and the video interview by LDI.]
Since the Karpen story has become public, women who had abortions done by Karpen have begun to come forward and tell Operation Rescue horror stories about their experiences at Karpen's Aaron Women's Center. Their stories include the following allegations:
• Painfully inserts laminaria into women's cervixes without pain relief when they cannot afford the extra fee.
• Slaps patients that he feels are not complying fast enough with his orders
• Manipulates ultrasound results to either avoid compliance with the 24 week limit on abortions or pad a gestational age in order to charge the patient more money.
• Has untrained staff conducting medical duties for which they are unqualified
• Is rude to heavy women and treats them roughly.
"All these allegations are consistent with information given us by the former Karpen employees who blew the whistle on their former boss and was provided to the Texas Medical Board over a year ago. Instead of doing the right thing, the Board chose to ignore the abuses and protect Karpen. There is obviously some serious house-cleaning that needs to go on at the Texas Medical Board," said Troy Newman, President of Operation Rescue.
The Houston Chronicle article also included defensive comments by Amy Hagstrom-Miller, head of the Whole Women's Health, a Texas abortion clinic chain that itself has run afoul of the law. Operation Rescue conducted an undercover investigation of Hagstrom-Miller's Texas clinics in 2011, which resulted in $83,000 in fines for the illegal dumping of aborted baby remains.
"Uncovering crimes and reporting them is actually a public service, the farthest thing from a witch hunt," said Newman. "Hagstrom-Miller tells reporters that she doesn't want the Attorney General investigating abortion clinics, and it's easy to see why because Hagstrom-Miller knows her own clinics could not stand up under that kind of scrutiny," said Newman.
In spite of the high media attention to the Karpen case, authorities have been slow to act.
"We can only imagine that any useful evidence that may have existed at Karpen's clinics has since been destroyed," said Newman. "The reluctance of authorities to act will only ensure that the abortion horrors will continue."
Read the full Houston Chronicle article published June 10, 2013