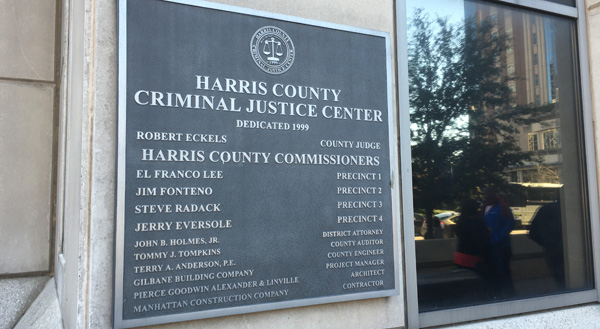 By Cheryl Sullenger
Houston, TX – Don Hooper, a Houston insider political blogger, made a startling revelation recently: District Attorney Devon Anderson tried to stop him from speaking to a group of Republican women about the cases her office filed against Center for Medical Progress head David Dalieden and his associate Sandra Merritt. When the group's leader would not capitulate, Anderson attempted to retaliate.
In a blog posting on Big Jolly Politics, Hooper wrote of Anderson's attempts to persuade the Daughters of Liberty (DOLs) to cancel his talk:
Devon tried everything she could to cancel my appearance. She threatened the DOLs on county time and offered herself as a replacement speaker claiming that she is the only person who can discuss the Planned Parenthood investigation. The funny thing is that she, as the elected district attorney prosecuting David and Sandra, is someone who is barred from speaking publicly on the facts of this investigation. Read Rule 3.07 of the Texas Disciplinary Rules of Professional Conduct. I knew [DOL head] Bonnie would have a large turnout thanks to Devon's efforts. She did.
Devon and her surrogates involved Texas Federation of Republican Women President Theresa Kosmoski and attempted to argue that the DOLs could lose their affiliation with TFRW. It was obvious that Devon was scared about what I would say to the DOLs and I could not help but think that something interesting was about to happen with the case.
That was a pretty heavy-handed reaction to Hooper's scheduled speaking engagement. Why would Anderson, a supposed "pro-life" Republican, be so concerned about what Hooper had to say?
The focus of Hooper's discussion was to be on irregularities involving the grand jury that indicted Daleiden and Merritt, which was under the authority of Judge Mary Lou Keel, a candidate for the Texas Court of Criminal Appeals.



That name may not sound familiar to most, but for those of us at Operation Rescue, the mention of Judge Keel holds ominous meaning. Keel is the same judge that oversaw the 2013 grand jury that failed to indict late-term abortionist Douglas Karpen for allegedly murdering babies born alive during failed abortions at his two Houston abortion facilities. That case was prompted by a complaint and supporting evidence filed by Operation Rescue.
The "no-bill" against Karpen was suspicious for several reasons, not the least of which was convincing testimony from three eyewitnesses who said they saw Karpen twist the heads or slash the necks of large babies born alive during abortions. The women even had photographic evidence of two corpses to prove it, but Operation Rescue has reason to believe that the incriminating photos never were presented to the grand jury.
Operation Rescue found out later that Karpen's lawyer was a man named Chip Lewis, who is a close family friend and largest campaign donor of Harris County District Attorney Devon Anderson.
Because of the strong evidence against Karpen, and Lewis' strong ties to Anderson, it seemed apparent to Operation Rescue that corruption was involved.
In retrospect, it appears that Judge Keel may have played a part as well.
Now, fast forward to 2015, and the release of the Center for Medical Progress' videos that implicated Planned Parenthood Gulf Coast and their mega-abortion center in Houston of trafficking in aborted baby body parts. When Attorney General Ken Paxton directed Harris County District Attorney Devon Anderson to investigate the allegations against Planned Parenthood, Anderson dutifully opened a grand jury investigation.
Anderson's friend, Chip Lewis, had publicly threatened to make Operation Rescue pay for bringing the murder allegations against his client, Douglas Karpen. Anderson was very aware that Operation Rescue's president, Troy Newman, sat on the Board of the Center for Medical Progress.
From the beginning, it appears that Anderson sought out a way to divert the investigation away from Planned Parenthood and onto the CMP journalists. Anderson tapped Assistant District Attorney Anshu "Sunni" Mitchell – the same prosecutor that oversaw the dubious Karpen investigation – to oversee the CMP grand jury. With Mitchell and Judge Keel on board, the grand jury returned two indictments against David Daleiden and Sandra Merritt.
As Operation Rescue reported, immediately after the grand jury returned indictments against Daleiden and Merritt, revealing comments were made in the media by Lewis and Planned Parenthood's attorney, Josh Schaeffer. In fact, Schaffer told the Associated Press that "the grand jury never even voted on possible criminal charges" against Planned Parenthood. Those comments indicated he had intimate knowledge of what were supposed to be secret grand jury proceedings.
Hooper has been engaged in an attempt to find out the identities of the grand jurors, information that is usually public. But in this case, there is little that is usual. Keel has put the grand jurors names under seal to their identities cannot be known.
"How do we know that the President of Planned Parenthood Gulf Coast was not the foreman of the grand jury?" asked Hooper.
Was the grand jury packed with cronies of Planned Parenthood or those who owed Anderson and Lewis a favor?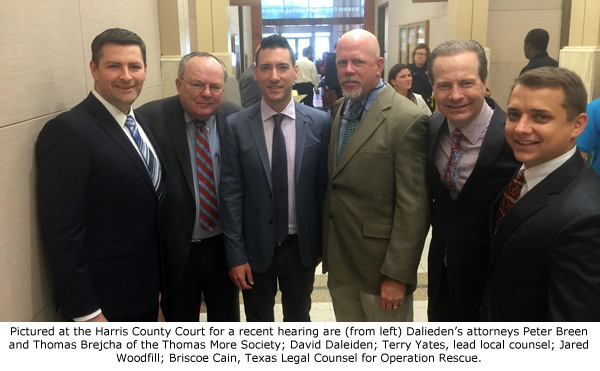 Once Daleiden and Merritt filed motions to quash the indictments against them last month, Hooper began to understand more. In his blog post, Hooper broke down the meaning of "Exhibit C," which was attached to the motions.
"Exhibit C" was an e-mail chain referencing a confusing cast of characters, including the following:
• Murphy Klasing: an attorney representing David Dalieden the civil suits filed against him by the National Abortion Federation and Planned Parenthood that have blocked the release of additional video footage by the Center for Medical Progress.
• Anshu "Sunni" Mitchell: Harris County Assistant District Attorney who handled the Planned Parenthood/Daleiden grand jury. She also handled the 2013 Karpen grand jury that failed to indict.
• Melissa Hervey: another Harris County Assistant District Attorney working on the Planned Parenthood/Daleiden grand jury case.
• Josh Schaffer: Criminal Defense Attorney for Planned Parenthood Gulf Coast.
• Randy Schaffer: Josh Schaffer's brother and partner in the Houston law practice The Schaffer Firm.
• NAF: The National Abortion Federation, an umbrella group for abortion facilities that sued Daleiden, Operation Rescue President Troy Newman, and the CMP to block the release of incriminating videos taken by CMP operatives at their national meetings. (Planned Parenthood later piled on with their own lawsuit filed in the same court.)
Hooper's article noted that Exhibit C's e-mail conversation centered on flash drives containing videos that were under seal in the NAF case that had been mistakenly provided to the supposedly secret grand jury. He explained:
In his email, Mr. Klasing tells Ms. Mitchell that "someone from the DA's office turned over this information [videos] to NAF." It is important to understand that when David Daleiden and the Center for Medical Progress released the now infamous Planned Parenthood videos, NAF immediately went to the California courts to stop the release of these videos. NAF is a legal organization that defends abortionists. NAF was successful in the California courts in obtaining a temporary restraining order (TRO) against Daleiden and the Center for Medical Progress, which prevented the dissemination of the Planned Parenthood videos.
Ms. Mitchell replied that she would return the flash drives to Mr. Klasing. Then came the kicker from Ms. Mitchell: "Additionally, you will recall that Melissa Hervey had notified you that we were providing copies of what you had given us to both Josh Schaffer and Randy Schaffer; therefore, you will need to contact them to obtain those copies as well."
This email exchange is important for a number of reasons. First, why was the prosecutor sharing evidence produced by David with Planned Parenthood? On August 5, 2015, Lieutenant Governor Dan Patrick called for an investigation of Planned Parenthood – not an investigation of David and Sandra. Second, this exchange occurs before David appeared before Keel's grand jury on January 14. This email exchange makes it clear that David is the target of the grand jury. So, why wasn't he given a target letter when he appeared before the grand jury, which would have advised him of his legal rights? Third, who shared David's videos with NAF?
Hooper concluded, "Devon [Anderson] can try to explain away a lot of things, but it is impossible to provide a rational explanation as to why her office gave the videos to Planned Parenthood's lawyers."
Daleiden's Motion to Quash 04142016 by Cheryl Sullenger

There was one more exhibit included in Daleiden's Motion to Quash that Hooper mentioned in his blog, and that was Judge Mary Lou Keel's extension of the Daleiden/Planned Parenthood grand jury, which was conveniently submitted after the candidate filing deadline for the post of Harris County District Attorney, for which Anderson was seeking re-election. Hooper explains:
The motion to quash held another curious piece of information – the prosecutors drafted the extension order for Mary Lou Keel to sign in December 2015, after the filing deadline. Again, the filing deadline is crucial because I guarantee that Devon Anderson would have been faced with multiple legitimate opponents if the indictments of David and Sandra had been released before the filing deadline. Instead, Devon and her prosecutors had the opportunity to present this investigation to five different grand juries in August and September and five grand juries, including Keel's, in October – December. Then, beginning in January 2016, five new grand juries were empaneled. So, why was it so imperative that Keel's grand jury be extended to 2016? So to be real clear, Devon had the option at this point to present this case to 15 different grand juries. She wanted Keel's real bad and for a reason.
Now, if you have been following my posts about Keel, you would know that I asked her about this extension in her two appearances before the Downtown Pachyderm. I specifically asked her why her grand jury was extended and she said that she "didn't know." Let's think about that. Keel wants to serve on the highest criminal court in our state and she doesn't know why she extended a grand jury, which is an extraordinary event.
As if all this was not enough to raise serious questions about the integrity of the Harris County District Attorney's office and the Houston courts where this little drama has played out, there is one more connection to consider.
When Daleiden and Merritt appeared in court for a hearing on April 29, 2016, it was in the courtroom of District Judge Brock Thomas – Devon Anderson's former law partner.
Now it seems clear why Anderson did not want Hooper to address the DOLs and why she and her "surrogates" threatened to disenfranchise them from the Texas Federation of Republican Women if he was allowed to speak. It appears that Anderson tried everything she could to keep Hooper's revelations of cronyism and corruption from her electoral base of support. She didn't want them to hear his conclusions that she misused the power of her office to cover up Planned Parenthood's crimes so she could chase a vendetta against pro-life activists and assure Planned Parenthood's support in the upcoming election for herself and Judge Keel.
In the famously understated words of Apollo 13's James Lovell, "Houston, we have a problem."
Clearly, the indictments against Daleiden and Merritt should be dropped and a new impartial grand jury should be empaneled with a special independent prosecutor to conduct the investigation into Planned Parenthood's illicit trade in aborted baby remains that the Anderson/Keel grand jury failed to conduct.
It is pretty much assured that the mainstream media won't touch this account of abortion-related political corruption with a ten-foot coat hanger. It is up to us to spread the word.
Read Big Jolly Politics "Thanks, Devon" by Don Hooper, May 6, 2016.