Two other abortion businesses sold or for sale.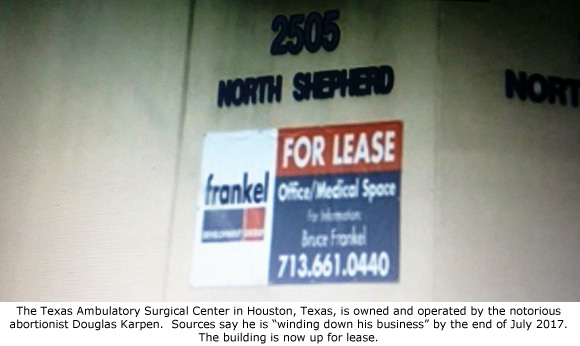 By Cheryl Sullenger
Houston, TX – Abortion businesses in three states are preparing to close their doors for good as their facilities have either sold or are up for sale or lease.
The Texas Ambulatory Surgical Center, owned and operated by the notorious abortionist Douglas Karpen, is now displaying a "For Lease" sign on the building. Sources tell Operation Rescue that a security guard told local pro-life activists that Karpen planned to retire soon.
Operation Rescue independently confirmed that Karpen's abortion business "winding down" and should be closed by the end of the month because Karpen is supposedly "moving on to other things."

Karpen is currently the subject of criminal referrals made to the Department of Justice and the Texas Attorney General's office by the House Select Investigative Panel on Infant Lives. He has been accused by former employees of murdering babies born alive during late-term abortions by twisting their heads or cutting their necks.
Operation Rescue released an
investigative report
in May 2013, about the Karpen murder allegations that included photos of the bodies of large aborted babies taken by one of the Karpen's clinic workers with her cell phone. That report, which included a video interview of the former employees released by Life Dynamics, Inc., prompted a grand jury "investigation" that was tainted by collusion between former Harris County District Attorney Devon Anderson and Karpen's criminal defense attorney Chip Lewis.
"If Karpen does retire, that does not absolve him of responsibility for any crimes he may have committed. The House Select Panel's criminal referrals have now been in the hands of authorities for about seven months. The Department of Justice and other Texas law enforcement agencies need to rush over to his clinic as soon as possible and seize evidence before he moves out and gets rid of it," said Operation Rescue President Troy Newman.
In Florida, Planned Parenthood of Central Florida has sold their Orlando abortion facility for $1 million to Lift Orlando, a group that wants to redevelop the area. Planned Parenthood officials told the
Orlando Sentinal
that they plan to move to another location, but for now, Operation Rescue has confirmed that the business is still open with no immediate plans to close.
According to local pro-life leader Michele Herzog, Planned Parenthood of Central Florida fell into financial trouble after building a large new center in Kissimmee. It allegedly took out a second mortgage on the Orlando property.
"We hope the new owners will soon take possession of the new building and kick Planned Parenthood out for good," said Newman. "I doubt if they have anywhere to go. It's really just a matter of time before this place shuts down."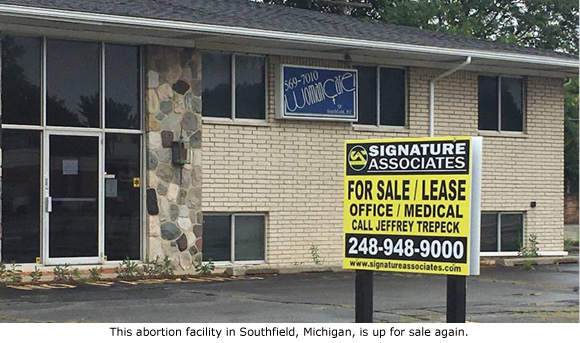 The third abortion facility that is currently up for sale is the old WomanCare abortion facility in Southfield, MI. It once belonged to the disgraced abortionist
Alberto Hodari
, who sold it to abortionist
Jacob Kalo
.
The facility lost its facility license in 2014 due to multiple violations. Callers are now being told the notorious abortion facility is "closed renovations" that appear will never take place. However Kalo currently maintains an active abortion clinic license for the Womancare facility that does not expire until next year.
Lynn Mills of Pro-life Detroit is guardedly optimistic about the potential sale.
Mills explained, "While this is a good sign, please keep in mind that this was sold from abortionist to abortionist, and until it's in the hands of a non-abortionist, we must pray and not party."