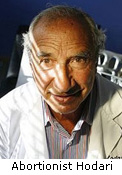 Detroit, MI – Representatives of an abortion clinic owned by Alberto Hodari pled "no contest" on Wednesday to one count of improper disposal of abortion records. Eleven other counts were dismissed and sentencing was delayed for six months. If during that time, there are no other violations, all charges will be dropped.
Abortion records and the bodies of aborted babies were discovered in Hodari's trash by the group Citizens for a Pro-life Society, who reported them to authorities. While the clinics were charged for the illegal disposal of medical records, no charges were brought for the illegal disposal of human remains.
"This sentence is totally inadequate. Abortionists will never take the law seriously as long as they know there are little or no consequences for violating it," said Operation Rescue President Troy Newman.
Hodari's lawyer told reporters that Hodari's clinics had never had any licensing violations or criminal allegations.
However, Operation Rescue investigations have discovered otherwise!
Watch next week for an in depth story from OR's crack investigators about a documented forced abortion and other problems at Hodari's clinics.