UPDATE: Divorce Document Now Available Below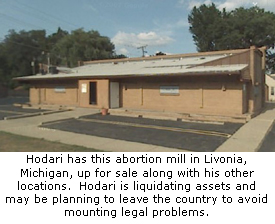 Detroit, MI – Yesterday, troubled abortionist Alberto Hodari filed for divorce from his wife, Nancy.
It was also learned that Hodari's "going out of business" sale continues, with his Livonia abortion clinic now up for sale, along with his clinics in Southgate and Flint. It is believed that every commercial property Hodari owns is on the market, along with his collection of expensive classic cars.
The Hodari's have had a troubled marriage. Nancy filed for divorce in 2006, but dropped her effort to dissolve their marriage a few months later. Nancy identifies herself as an attorney, business owner, and fitness instructor. The Hodari's shared a sprawling mansion in an exclusive Bloomfield Hills, Michigan, neighborhood.
It is thought that Hodari may be liquidating his assets so that he can flee the country to avoid mounting legal problems.
UPDATE: VIEW HODARI DIVORCE DOCUMENTS
Read previous story with additional background information.