By Cheryl Sullenger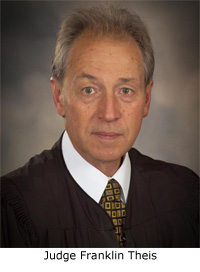 Topeka, Kansas – On Friday, Shawnee County District Court Judge Franklin R. Theis surprised court watchers and pro-life groups by nullifying the Kansas State Board of Healing Arts order to revoke the medical license of abortionist Ann Kristin Neuhaus, a former associate of late-term abortionist George R. Tiller.
The 186-page order seemed verbose and capricious, overturning a carefully investigated and litigated case based on a complaint by this correspondent in 2006.
It did not seem to make much sense until our office conducted further research on Judge Theis' background. Then the apparent motivation behind his decision to allow an abortionist who has been repeatedly proven to pose a danger to the public and a display gross disregard for the law back into her dubious branch of the medical profession.
Theis is a registered Democrat who once worked as a pardon attorney for former Democratic Gov. Robert Docking, a position that predisposed him toward sympathy for criminals. He was elected to the post as Shawnee County District Court Judge in 1976.
Throughout his long career he has been involved in several cases that have raised eyebrows and prompted unsuccessful efforts by citizens to remove him from the bench.
Perhaps most shocking was a 2004 child rape case where Theis was ordered to resentence a man who had been convicted of raping a child under the age of 14. Theis had ignored sentencing guidelines that required a sentence of 554 to 618 months and sentenced the rapist to only 165 months. Theis justified his lower sentence by noting that the man exhibited slight mental retardation and that the rape took place on a family member and not a stranger, as if that made the rape of a child somehow more acceptable. The case prompted the National Association to Protect Children to campaign for Theis' removal as judge.
Displaying bias in court cases has characterized Theis' career.
In 1996, Theis was removed from a case involving the Kansas pension fund after making a 49-page ruling on a timeliness issue that showed "not only bias and prejudice, but hostility and contempt toward the defendants," according to the defendant's motion to disqualify Theis. He repeatedly made "gratuitous statements" in the decision that showed he considered matters for which there had been no evidence, which is a gross breach of judicial ethics.
"Viewed as a whole, these statements are derogatory toward the defendants and may be said to indicate a personal bias against the defendants or the positions taken by them in this litigation," stated the opinion of Shawnee County Judge Fred S. Jackson ordering Theis removed from the case.
According to the Kansas City Business Journal, Theis "consistently ruled in favor of the Kansas Public Employees Retirement System, and his occasionally intemperate language — expressed in sometimes verbose and rambling opinions — have long been a matter of concern to the KPERS defendants."
Theis' inexplicable decision in the Nuehaus case reflected a similar "verbose and rambling opinion" that gave credence to testimony described as wholly not credible by Administration Judge Edward Gaschler, who heard the testimony at the Neuhaus disciplinary hearing. He also discounted the damaging testimony of an expert witness for the KSBHA, who testified that Neuhaus' shoddy mental health diagnoses that were used to justify post-viability abortions done by Tiller's now-defunct Women's Health Care Services abortion clinic in 2003 were done in a manner that was well below the standard of care and posed a danger to the patients.
The concern that personal bias influenced his decision in the Neuhaus case is strengthened by his conduct in another abortion-related case currently overseen by him.
A constitutional challenge to the 2011 Abortion Clinic Licensing law is being held captive in the proverbial black hole of Judge Theis' court without any action whatsoever since 2012. He issued a temporary restraining order barring the enforcement of the law that was passed in order to rein in out-of-control Kansas abortion clinics that currently remain outside any oversight jurisdiction, thanks the Theis. That order has proved to be not-so-temporary as it remains in effect nearly three years after it was issued. If the law was allowed to go into effect, it would likely close 3 out of 4 Kansas abortion clinics that are currently operating under dangerous conditions without accountability.
[Sign the petition to Gov. Brownback asking him to instruct the Attorney General's office to actively defend the 2011 Clinic Licensing law.]
"There can be little doubt that Theis is biased in favor of protecting abortionists, and is not afraid to show it," said Troy Newman, President of Operation Rescue. "We are urging the Kansas Board of Healing Arts to take action to either appeal Theis' outrageous ruling or suspend Neuhaus' medical license indefinitely in order to protect the public from her incompetence and arrogant disregard for the law."
The KSBHA will hold a hearing on Friday, March 14 at 5:00 pm at the Board's office in Topeka to determine the next course of action in response to Theis' surprising decision. Operation Rescue staff plans to attend.