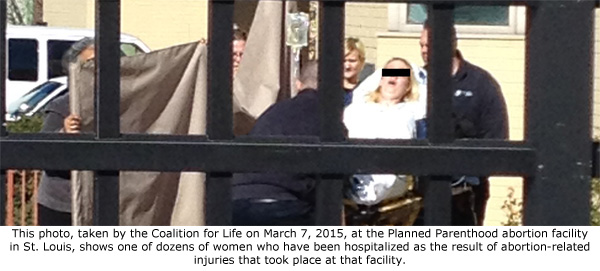 By Cheryl Sullenger
St. Louis, MO – Subpoenas were issued by the Missouri Attorney General's office yesterday for several physicians who have conducted abortions at Reproductive Health Services Planned Parenthood, which is fighting to stave off revocation of its facility license that allows it to do abortions.
This set off a flurry of filings by Planned Parenthood and its abortionists to prevent them from having to testify.
RHS Planned Parenthood's attorneys and two attorneys representing abortion trainees from Washington University in St. Louis have filed motions to quash the subpoenas. Planned Parenthood is seeking a continuance for their motion for preliminary injunction that would prevent the state from enforcing their laws against Planned Parenthood.
"Planned Parenthood appears to be in panic about the prospect of their abortionists being forced to testify. They are obviously trying to hide something that could cause further problems for Planned Parenthood," said Troy Newman, President of Operation Rescue. "Let the truth come out and let the chips fall where they may."
RHS Planned Parenthood failed an annual inspection in March and failed to remedy the deficiencies before its license expired on May 31, 2018. It has also refused to make several abortionists available to Department of Health officials for interviews related to patient outcomes that required further investigation. Because of that, the Department of Health was expected to not to renew Planned Parenthood's facility license until it came into compliance with Missouri's laws and regulations.
With the help of local activists, Operation Rescue has documented at least 74 medical emergencies that involved ambulance transport of patients from RHS Planned Parenthood, three of which took place during a 22-day period in April and May of this year.
Planned Parenthood sued Missouri Governor Mike Parson, the Department of Health and Senior Services, and Dr. Randall Williams, who directs the DHSS, to block the state from pulling its license and obtained a temporary restraining order on May 31, 2019, that has kept the abortion facility open even though it is in substantial non-compliance.
A hearing on RHS Planned Parenthood's motion for preliminary injunction was scheduled for today at 9:00 a.m., but the flurry of subpoenas and responding motions has delayed that hearing. Instead, Judge Michael Stelzer heard arguments on the motions to quash the subpoenas and delay the preliminary injunction hearing.
Judge Stelzer has taken the issues under advisement. No further hearings have been scheduled as of this writing. Planned Parenthood remains open at this time.
RHS Planned Parenthood is the last remaining abortion facility in Missouri. Should the state prevail, Missouri would become the first abortion-free state since the 1973 Roe v. Wade Supreme Court decision that decriminalized abortion in the U.S.
This is a developing story.  Please check back for updates.  Subscribe to Operation Rescue on Twitter and Facebook for up-to-the-minute developments.
Read background report on RHS Planned Parenthood's abortionists.