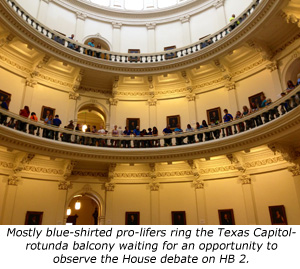 Austin, TX – Pro-life supporters gathered early at the Texas Capitol this morning for a chance to obtain a coveted spot in the House gallery for the debate and vote on HB2, a bill that would ban abortions after 20 weeks, require abortionists to obtain hospital privileges within 30 miles of their clinics, and provide safety regulations for the dispensing of abortion pills.
The gallery line stretched down a long hallway, up three flights of stairs, and around the rotunda balcony. In the end, the gallery was filled predominantly with pro-lifers in blue shirts, reducing the possibility of a disruption by orange-shirted abortion supporters.
The debate began on HB2 with a lengthy discussion on a series of 20 amendments, most of which were designed to gut the provisions of the bill or make them so weak that they would have become irrelevant. Soft-spoken pro-life Rep. Jodie Laubenberg deftly managed the support for the bill.
There were numerous attempts to bring up amendments to add rape and incest exceptions. All those amendments were tabled, which means they are essentially dead.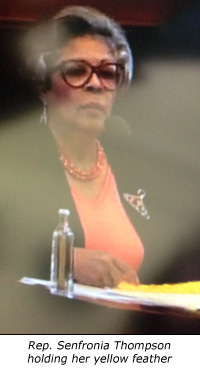 Rep. Senfronia Thompson engaged in theatrics on the House floor, waving a bent coat hanger, a knitting needle, and even a large yellow feather to symbolize the types illegal abortions that she was sure women would resort to should HB 2 pass. Another representative produced a rape kit and questioned colleagues on their knowledge of its contents.
What Rep. Thompson failed to understand was that due to the lax nature of abortion regulations in Texas, right now women are not receiving much better than the procedures she graphically described.
Appallingly, Thompson demeaned children that were products of rape by stating, "People will never let that child live down the fact that it was the product of rape." She added that a child conceived by rape or incest would live marked forever with a "scarlet letter" because of the manner of the child's conception. Her remarks stigmatizing those conceived by rape and incest were grossly bigoted and made in favor of allowing late-term abortions in those cases.
It what appeared to be the hypocritical moment of the day so far, opponents of the bill ignored the fact that abortion clinics have been repeatedly caught failing to report child rape.
Another concern raised by opponents was the supposed "undue burden" that following FDA protocols for the abortion pill would have on women. They objected to the second visit required under FDA protocols to ensure that women had not suffered complications from the first round of abortion medication. Ironically, those supporting so-called "women's rights" were actually arguing that convenience was more important than the safety of women.
It was noted that the average Texas abortion clinic generates about $1.5 million in revenue, yet they remain unwilling to pay for the necessary upgrades to ensure public health and safety.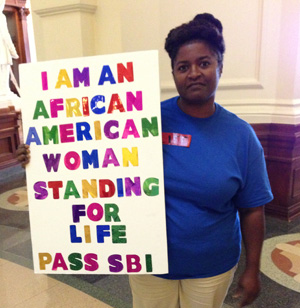 At one point, applause erupted in the gallery when a pro-life legislator, being peppered by questions from bill opponents, responded "I want my people and my constituents to have the best chance at life."
That outburst of support earned the gallery a stiff warning from House Speaker Joe Straus, who threatened to eject those causing disturbances or clear the gallery altogether if the disruptions continued.
There was also debate concerning the possibility that the new law could close all but five of 42 abortion clinics in Texas. With weak arguments being the rule of the day, opponents used a shoddy El Paso abortion clinic as an example of the remote clinics whose closure would cause a supposed undue burden on women. However, that particular clinic, Hilltop Reproductive Health Center, operated by abortionist Franz Theard, has a history of violations and fines for severe health code violations. Operation Rescue has worked to close that clinic to protect women from substandard care. This clinic also has a history of evading parental consent laws in Texas by referring underage girls to his abortion clinic across state lines in New Mexico.
Meanwhile, pro-life supporters who could not gain entry to the gallery wandered the Capitol. Sometimes praying and sometimes singing hymns.
The abortion supporters brought a big orange bus to the Capitol to rally their troops during a morning rally. The Students for Life Bus positioned itself next to the orange abortion bus to make a statement for life.
Once debate on the 20 amendments has finished, it is believed that a vote will take place, probably late this evening.
This is a developing story. Please check back for updates.