By Cheryl Sullenger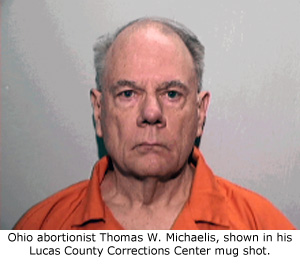 Toledo, OH – Operation Rescue is asking the Ohio Department of Health to conduct a thorough investigation into whether Ohio abortionist Thomas W. Michaelis may have engaged in improper sexual conduct with patients at the Toledo Women's Center abortion clinic. The request was made in a letter to the director of the Ohio Department of health Richard Hodges dated November 13, 2014.
Michaelis was indicted last week by a federal grand jury on two criminal counts related to possessing and distributing child pornography. He was arrested on Monday and is being held without bail at the Lucas County Correctional Center in Toledo, Ohio, until a scheduled detention hearing on November 25, 2014.
Court documents obtained by Operation Rescue shed more light on Michaelis' child porn charges and raise concerns that he may have had the opportunity to abuse young abortion patients while working at the Toledo abortion clinic.
A grand jury investigating Michaelis in April and May of this year issued search warrants for his home that were executed on May 12, 2014. Authorities seized a Western Digital external hard drive and an iMac computer that apparently contained images of "minors engaged in sexually explicit conduct."
On November 6, 2014, the grand jury returned a "True Bill," indicting Michaelis on one count of Receipt and Distribution of Material Involving Sexual Exploitation of a Child, and another count of Possession and Access with Intent to View Material Involving Sexual Exploitation of a Child.

During the time of the investigation, Michaelis was employed as an abortionist at the Toledo Women's Center, which was ordered to close in July for violations unrelated to Michaelis' alleged crimes. While the clinic remains open pending an appeal of the closure order, Michaelis' Ohio medical license was permanently revoked on June 2, 2014.
"The Department of Health needs to investigate whether any abuse took place during Michaelis' employment with the Toledo Women's Center and determine if any other clinic employee has knowledge improper behavior by Michaelis. It is possible that other crimes were committed and is it the responsibility of the Department of Health to get to the bottom of this," said Operation Rescue President Troy Newman.
This disturbing case has prompted concerns for the welfare of minor abortion patients, especially in light of Michaelis' history of improper sexual conduct with minors dating back to 1991 when he was convicted of Attempted Gross Sexual Imposition, Voyeurism, Public Indecency, all involving minor girls who came to his home to visit his young daughter.
He never served time in prison for his 1991 convictions. Instead, he was placed on probation for five years and ordered to pay a fine of $2,750.
In 1992, the Ohio Medical Board indefinitely suspended Michaelis' license based on his criminal convictions, but unfortunately reinstated it in 1997.
"The lax handling of Michaelis' previous criminal case only taught him that he could get away with exploiting children with only marginal consequences. We shudder to think of what he may have done to vulnerable young women while he was working as an abortionist over the years since abortion facilities create an atmosphere of secrecy and opportunity that has been known to allow sexual predators to flourish," said Operation Rescue President Troy Newman. "If other women have been victimized by Michaelis, they deserve justice as well."
Read Operation Rescue's letter to Ohio Department of Health Director Richard Hodges