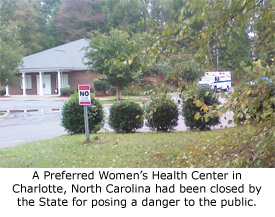 Charlotte, North Carolina – A Preferred Women's Health Center (PWHC), a troubled abortion clinic in Charlotte, North Carolina, has been ordered to close by the North Carolina Department of Health and Human Services after failing a second inspection in four months and posing a threat to public health.
The Division of Health Service Regulation (DHSR) summarily suspended PWHC's certificate to operate based on an inspection conducted in response to a complaint. The DHSR's finding stated:
This Summary Suspension is based on this agency's findings that conditions at A Preferred Women's Health Center, LLC, present an imminent danger to the health, safety and welfare of the clients and that emergency action is required to protect the clients.
According to an inspection report conducted on April 20, 2013, the clinic was found to be improperly dispensing an abortion drug, Methotrexate, in a dangerous manner contrary to manufacturer's specifications. The clinic was dispensing the intravenous version of the drug to women orally, causing failed abortions that necessitated surgery.
Methotrexate is a drug developed to treat cancer, but has been used to induce abortions after it was discovered that early abortion was a side effect of the drug. It is usually used in conjunction with Cytotec to induce contractions, but there is no notation in the DHSR's deficiency report to indicate whether Cytotec was used.
The inspector interviewed the abortionist who inexcusably denied responsibility for the administration of the drugs he prescribes. The report stated:
The physician stated that he had worked at the clinic 14 years and until two years ago, the clinic gave Methotrexate intramuscular. The physician stated around two years ago the administration decided to begin giving the Methotrexate injectable orally. The physician stated "I don't order (the medication). The clinic decides. I just sign. Oral or Injectable is not indicated on the order. The nurse and clinic are independent from me. I leave it to the clinic to decide. I have never seen the (Methotrexate) pill used here."
"This statement shows an appalling disregard for the health and safety of women that simply cannot be fixed. The abortionist who shirked his responsibility to his patients in such an egregious way that he should not be allowed to practice," said Newman. "In fact, a clinic that cares so little for patients that they would endanger them repeatedly will never change no matter how many opportunities it is given. You can't force someone to care about something. The only option is closure, for the good of the public."
Operation Rescue worked with local activists that filed complaints against PWHC late last year, prompting an inspection in December that resulted in citations for filthy conditions and a lack of emergency protocols were discovered. The clinic had been the site of multiple botched abortion emergencies, also reported by Operation Rescue.
The two abortionists employed by PWHC are Stuart Lee Schnider and Ron Virmani. Both have troubled backgrounds. Schnider was sued in 2002 after botching an abortion that resulted in a total hysterectomy. Virmani attained notoriety as a racist last year after telling pro-life activists that he aborted "those ugly black babies" because he did not want his tax dollars going to support them.
"PWHC operates a second location in Raliegh that must be immediately inspected. There's no reason to believe that the Raleigh site is any better than their shoddy Charlotte location. These people have been proved to pose a danger to the public. We encourage folks to contact the Separtment of Health and demand an immediate and unannounced inspection of Preferred Women's Health Clinic in Raleigh," said Newman.
Please contact:
North Carolina Department of Health and Human Services
Division of Health Service Regulation
Complaint Intake Unit
Voice: 919-855-4500
E-Mail: dhsr.webmaster@dhhs.nc.gov