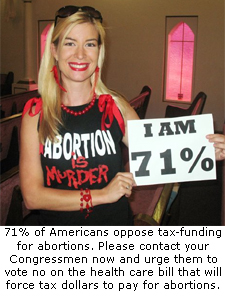 Washington, DC – Democrats have set the vote on the latest version of health care "reform" for March 18. They hope to use the tactic of "reconciliation" to force through the unpopular legislation that would include tax payments for abortions with a simple majority.
However, about a dozen pro-life Democrats, led by Rep. Bart Stupak, have indicated that they will oppose the bill if it contains the current language that would allow for tax-funded abortions.
Speaking on Good Morning America on Thursday, Stupak remarked, "Yes. We're prepared to take responsibility [for killing the bill]. We're not going to vote for this bill with that kind of language."
Without the votes of Stupak bloc of Representatives, it is unlikely that the health care bill could pass.
"You can count on the fact that these Congressmen will be pressured every way possible to change their vote and support Obama's health care boondoggle," said Operation Rescue President Troy Newman. "It is up to us to support our Congressmen and Senators, and let them know that a vote for the bill is a vote for abortion.
"We ask that in the next two weeks, that Americans who cherish life would hold their Congressman's feet to the fire through letters, emails, phone calls, and visits to their offices. Because demand for abortion has fallen, without our tax dollars many existing abortion clinics will not be able to remain open. Everywhere public funding of abortion has increased, abortions also increase. This is the last leg of the race to prevent the largest abortion bailout in history. Let us press on to victory for the sake of those who cannot speak for themselves."
Contact: Your Representative; Your Senator
Visit IAM71.org.